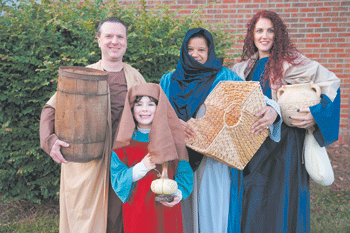 The typical hustle and bustle of the holiday season is muted this year. Family plans and holiday outings have crumbled due to the pandemic. Despite it all, The Village Baptist Church invites the people of Cumberland County to experience the joy of Christmas through a social-distancing-friendly drive-thru event Dec. 11-13.
Chris Ferger, the Pastor of Worship and Arts at The Village, said that the church's Easter production was cancelled due to COVID-19, so he was looking for opportunities to still celebrate the Christmas holiday.
"I thought the best way to allow people to see and experience the story of Christmas in a safe, COVID-free environment is to have a drive-thru Christmas," he explained.
"I used to do something similar years ago for Easter and I just thought it would be a great idea. So, we put together a team that could pull it off."
Organizing a Christmas drive-thru event is no easy feat, but with the help of hundreds of volunteers since April participating in musical recordings, set design, acting, guiding traffic, hospitality, advertising, animal management and more, The Village anticipates an unforgettable experience.
Keeping in line with the CDC's COVID-19 guidelines and local ordinances and mandates, The Village Choir and orchestra has rehearsed virtually and in venues that allow for social distancing to prepare the recorded music for the event. The music and drama will be available through the Village Baptist Church App or with a CD available as you enter.
"(Attendees) will be immersed in eight scenes that retell the Christmas story through the eyes of a young shepherd all while listening to music recorded by The Village Choir and Orchestra," Ferger said.
Attendees can expect to see live actors and animals, hear Christmas tunes and narration, and experience the anticipation of Christ's birth with period-accurate clothing and carefully crafted sets. Don't be shy about taking pictures and videos. The Village would love to see your pictures on social media with the hashtag #ChristmasatTheVillage.
In a year that has divided so many people both physically and ideologically, The Village uses their love of Jesus to unify the community. "Our community desires the joy and peace that only the true story of Christmas can bring now more than ever," Ferger said. "People are tired of being cooped up in their homes and are ready to go somewhere that will help them feel the joy of the season. We want people to feel safe as they bring their family."
The Christmas Drive Thru at The Village will take place at 906 S. McPherson Church Rd. and will run from 6:30-9:30 p.m. Dec. 11-13. The event is free.
Travelling through all of the scenes will take approximately 20 minutes. Cars, people movers and vans are welcome, but no bicycles, pedestrians or buses will be permitted for the safety of the actors.
For more information about The Village visit https://thevillagebc.church/