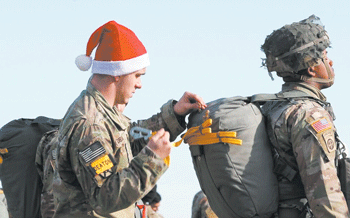 The COVID-19 pandemic has forced many to change holiday plans this year, canceling traditional events such as shows, light displays and parades. Although modifications were needed, not even a pandemic could keep soldiers and families on Fort Bragg from continuing some holiday traditions this year.
The 20-foot Fraser fir Christmas tree is lit up on the Main Post Parade Field for families to view and enjoy, something the installation Morale, Welfare and Recreation department is proud to display.
"MWR is really big about the soldiers and their families so this tree symbolizes a big part of that and enjoying the spirit of holidays in general and bringing back kind of the family atmosphere to the garrison to celebrate," said Keegan McDonald, event coordinator for Fort Bragg Family Morale, Welfare and Recreation.
Due to COVID-19 restrictions, the tree lighting was a virtual event this year, but people can still come to the Main Post Parade Field where the tree will be all holiday season, to look at it and take pictures, he said.
Fort Bragg's Trees for Troops event is set to take place at the Smith Lake Recreation Center on Dec. 11 from 8 a.m. to noon.
The event will give out free Christmas trees — one per family to activity duty personnel in the rank of E-6 and below with a valid DOD ID card and a voucher. Vouchers were handed out at the Leisure Travel Services office.
Trees will be passed out to non-voucher holders after 10 a.m. based on availability. For more information, soldiers can contact the BOSS office at 910-643-4569 or
910-396-7511.
The heart of what the garrison does is take care of soldiers and their families, said James Day, DFMWR's Outdoor Recreation branch manager.
"Every year, we host the Trees for Troops event in which Christmas trees are donated to our soldiers," Day said. "This year 300 trees will be provided to soldiers and families to enjoy during the holiday season. Our single soldiers with the Better Opportunities for Single Soldiers program will distribute them at the Smith Lake Recreation Area."
Some of the other upcoming holiday events at Fort Bragg are the Holiday Concert, All American Presents from Paratroopers and a free meal give-away for paratroopers and their families, said Lt. Col. Mike Burns, Public Affairs Officer for the 82nd Airborne Division.
The 82nd Band and Chorus Holiday Drive-In Concert will be held on Pike Field Dec. 17, with bands playing a variety of Christmas music. The event is free.
"Each year we do a holiday concert for our families, this year due to COVID it will be a drive-up event," Burns said. "We are doing things a little bit different, we are moving to Pike Field … and families will be able to enjoy the concert from the comfort of their own car or a small area around their car, to help prevent the spread of COVID."
Pike Field is a large and open area on post that can accommodate vehicles for the concert, Burns said. The concert will be an hour long show and a great opportunity for families to come together and enjoy
some music.
"I would say this concert is important to the soldiers here in the Division, it's been a really tough year, a lot of soldiers are deployed, and their families are still here," Burns said. "It's important for people to get together and celebrate the holidays and it's a great time, really fun, and a high quality professional level concert."
The members of the 82nd Airborne Association will host a meal give-away for paratroopers and families on Dec. 11, at the All-American Chapel. For more information on times visit www.facebook.com/287901225386/posts/10164689157945387/
The association is made up of veterans of the 82nd Airborne Division and their families. They come together every year and provide meals for Thanksgiving and Christmas for service members, Burns said.
All American Presents from Paratroopers is an annual toy drive that gives paratroopers an opportunity to give back to Fort Bragg's local communities, Burns said.
"Every year, paratroopers come out and donate a toy for an opportunity to jump from a helicopter and earn foreign jump wings," he said. "The only requirement is they donate a toy."
Events like these are what makes the season special and lets the families know they are a part of the airborne legacy,
Burns said.
(Pictured above) The Presents from Paratroopers toy drive is an annual event where soldiers donate toys to participate in an airborne jump to earn foreign jump wings. This year's event saw about 1,500 toys donated for local families in need. (Below) Soldiers help prepare food bags to be donated to families in need. (Photos courtesy 82nd Airborne Division PAO)