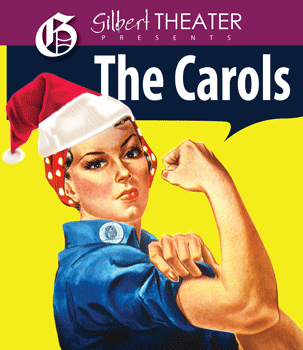 Taking us back in time, and yet reminding us very much of our current turbulent ones, "The Carols," written by Jennifer Childs, transports its audience into a feel-good, nostalgic and wholesome family drama of Christmas and life.
"The Carols" directed by Robyne Parrish will run at the Gilbert Theater until Dec. 20, bringing a genuine good time filled with many laughs, great songs, a tear in your eye possibly, but also a reminder to enjoy the
present.
In the war and poverty-stricken setting of a 1940's Veterans of Foreign War post where gloominess lingers, three sisters — Sylvia, Rose and Lily — shine bright with their optimistic natures.
Sylvia (played by Molly Hamelin) is determined to make a change in the world and is obsessed with Eleanor Roosevelt. Rose (played by Megan Martinez), dreams of marrying a general and Lily (played by Eden S. Kinsey) holds down the homestead with her charm.
The first half of the production focuses on the chaotic, hilarious challenges of putting on "A Christmas Carol." This includes convincing the fascinating Miss Betty (played by Karen Morgan Williams), who runs the VFW, to have the production and find the right cast. Then enters Melvin Shaatz (played by Evan Bridenstine), the Jewish comedian who brings everyone a very Yiddish "Christmas Carol."
The themes in the show touch on loss of those at war, the state of poverty in the present, and how everyone is looking forward to the future while enduring the present.
The actors put on a charming musical with wonderful jokes.
The second act brings an usual yet entertaining version of "A Christmas Carol" with Ebenezer Scrooge, Tiny Tim and the Ghosts of Christmas past, present and future with hilarious modifications. It brings a smile to everyone's face.
The Yiddish punchlines, the 40's slang, the "bah humbugs" is just what the audience needs — a two-hour escape from the times of COVID-19.
The talented actors do a great job in reminding everyone, while looking forward so much and focusing on the misfortunes of the past, that we should not forget to live in and enjoy the present, no matter how hard
things get.
For those who just need to get away for some light-hearted singing and comedy, "The Carols" is a must watch with its reminder to hold on to right now and cherish it.
The final weekend of the show is Dec. 18-20. For more information on the play and schedule, visit https://www.gilberttheater.com/season27/thecarols.php