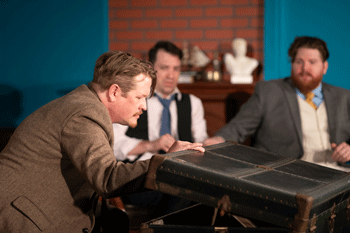 The Gilbert Theater's latest show "Rope" premiered Jan 29. with a full house on opening weekend. The crime-centered, murder-themed play brought a thrilling drama to the stage for its audience.
Originally written by Patrick Hamilton in 1929, the British play was later made into a movie by the famous filmmaker Alfred Hitchcock in 1948. The Gilbert's production of "Rope" runs through Feb. 14. Tickets are $16 for adults, $14 with military, student, first responder and seniors.
The play opens with a cold-blooded murder of a young man by the two lead actors Wyndham Brandon (played by Chris Walker) and Charles Granillo (played by Tim Zimmermann).
The characters of Brandon, with his air of intellectual superiority and a temper, and Granillo with his tenderness and remorse, make quite the interesting murderous duo.
The two leads decide to host a dinner party around the wooden chest where they've hidden the body. The dinner party is supposed to be an amusement to the duo, especially Brandon as getting away with the "perfect crime."
The guests include Kenneth Reglan (played by Quentin King); Leila Arden (played by Megan Martinez); Sir Johnstone Kentley who is the father of the murder victim (played by Gabe Terry); Mrs. Debenham (played by Kathy Day); Rupert Cadell (played by Lawrence Carlisle III); and amongst them is their butler, Sabot (played by Dylan Atwood).
The guests comment on the "queerness" of the evening, and the strangeness of the food being served on the wooden chest. Arden's character goes as far as to jokingly suggest the hosts are hiding a dead body in it.
Cadell suggests it would be obvious stupidity to murder then host a party around the body, which seems to get under Brandon's skin. Meanwhile, filled with regret and fear, Granillo drinks his feelings away through the night.
The characters bring forth a drama filled evening, not short of laughter, suspense, thrills and some philosophical back-and-forth about murder.
Suspicious and quickly picking up clues, the clever Cadell lures the duo into confessing to murder and the "perfect murder'" plan that they failed at executing.
The hard work of the cast and crew is reflected in the costumes, set and acting during the two-hour, fun-filled thrill of the evening.
For those looking for a drama-filled affair, "Rope" at the Gilbert Theater is one to see.
For tickets visit, https://www.gilberttheater.com/index.php
Pictured above: Lawrence Carlisle III (left), the Artistic Director of the Gilbert Theater, joins the cast of "Rope." Photo by Jonathan Hornby.