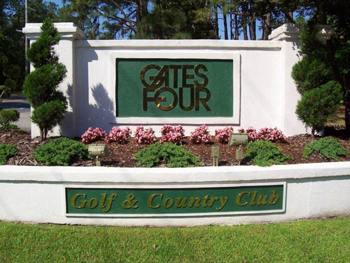 Located on the west side of Fayetteville, Gates Four has been a part of the Cumberland County community for about 54 years. The 18-hole championship golf course and club was built in 1967, and the residential community followed in 1974. The community has grown over the decades.
Gates Four Golf & Country Club and its residential community Fayetteville will be adding more developments and various amenities for residents and club members this year. In addition to hosting the Cumberland County Golf Championship again this year, new entertainment amenities will include the Fayetteville Dinner Theatre in April and the Summer Concert Series beginning in May.
"Gates Four is really unique to this market at the price point that we offer, there's really nothing like it around," Kevin Lavertu, general manager of the Gates Four Country Club said.
The club and residential development are located in proximity to each other, but they operate separately and membership to the club is open to everyone and one doesn't have to reside in their community, he said.
The full-service country club includes the golf course, junior Olympic-sized swimming pool, four USDA tennis courts, JP's Bar & Grill dining room facility, a banquet facility, and an outdoor pavilion among other things.
"There are about 400 members and some are social members and some sports," Lavertu said. "We have different categories of memberships to meet different lifestyles."
The golf-course for the club is a semi-private facility, open to outside play after 10 a.m. on weekdays and 11 a.m. on weekends.
"Having a golf course here is nice, it's top-rated, I go up there every day," said Mike Molin, a club member and resident of the community. "I am retired and I can play almost every day."
Lavertu does a great job with the course and club, and it's a great place to be, eat and hang out with friends, he said.
Gates Four Country Club is family centric with single or family dues packages available.
"It provides a getaway for people, whether you play golf, tennis or just to dine or swim. There's something for everybody and it's really a getaway for a lot of people," Lavertu said.
The Dinner Theatre will include events planned inside the ballroom for members to watch shows in an intimate setting and enjoy dinner and entertainment, while the Summer Concert Series hosted at the club's pavilion will showcase local bands for members and guests to enjoy outdoors. The concert series will kick off Friday, May 14.
The Cumberland County Championship will be played this year Oct. 15 through Oct. 17 and is one of the biggest tournaments around for amateur golfers, and a staple for golfers and the Cumberland County area, Lavertu said.
"Just like anything it's a getaway and way for people to enjoy. We are open to anybody who wants to join and we have some great promotions on memberships," Lavertu added.
Surrounding the club house is the residential community of Gates Four, a combination of 760 houses and townhomes.
"I think it's the best community in Cumberland County and the area with a top-rated golf course, country club and a gated community," Molin said. "There's nothing around like it."
Molin, a resident of the community of 41 years, also serves as the Home Owners Association Treasurer.
We have grown from 200 homes to 760 since I have lived here, and it is almost like a small company that the HOA runs. There's a property manager and we expect people to live by certain standards when they move home to help keep the community looking nice, he said.
"Having a 24-hour gated community, it provides all these amenities in a safe environment for people to live in, which does help people gravitate towards Gates Four and what I noticed with the school system, we are getting younger and younger within the community moving in," Lavertu said.
Some may have the impression that the community is far out of town, but Lavertu says the Gates Four community is only about 10 minutes from Raeford Road, adding that the area offers a great school system.
"I call it the best kept secret of Fayetteville, honestly," said Jay Dowdy, Broker/Owner at All American Homes with Berkshire Homes. "Gates Four has one of the best school districts and a lot of people call me from out of town looking for homes there, the whole area is nice, and has a unique environment."
Molin said the biggest things he liked about living in Gates Four is the gated community and also having a Fayetteville address but not having to pay the city taxes because the community extends out to Hope Mills.
Dowdy mentioned the demand for the community is very high and about 20 percent of his buyers live in Gates Four.
"The price point out there starts around the 250's and goes up to about a million, so it's not going to your beginner buyers, more upper end buyers" he said "But there's a lot of very affordable townhomes out there too priced in the 100's."
The growth in the area due to Gates Four has been high, Lavertu said.
"If it wasn't for the community of Gates Four you wouldn't see businesses making financial investments in the community here in close proximity so obviously this has a huge financial impact on the area due to the community," he said.
Due to the high demand, all of the new construction has been sold and pre-sales are happening on the next construction, Dowdy said.
Lavertu emphasized the convenience of the Gates Four community having dining, sports and other amenities right there for members.
"It's a gated community with a country feel, it's got ponds," Dowdy said. "It's your hometown country club, with lots of amenities, affordability, location."
For more information about Gates Four, visit https://www.gatesfour.com or contact the club at 910-425-6667.