The Fayetteville Dinner Theatre will kick off its 2021 season this weekend at Gates Four Golf & Community Club with one showing each day at 7 p.m. on April 9 and 10. "A Sinister Cabaret: Love Letters/Sleight of Hand" is a musical mystery written and directed by Dr. Gail Morfesis, a local performer who has collaborated with Fayetteville State University, Methodist University, Fayetteville Technical University, Fayetteville Symphony Orchestra, among others.
In "A Sinister Cabaret," Morfesis takes on the role of Francine Maximillian, a seasoned actress who starts an agency to promote young artists. Francine's philandering husband, who works at the agency, meets his end under mysterious circumstances early in the show, and through performances by the artists, we learn details of their lives and dealings with the deceased.
"During the course of the story all of his interactions with different women come out," Morfesis said. "It's just a really fun show."
The play is interactive, Morfesis said, so before the finale, the audience will be able to ask questions of characters to try to determine who is guilty of the murder.
Jim Smith plays Sylvester "Sly" Fox in the production and said he has enjoyed working with Morfesis and the other talented performers. Smith said that with multiple plots running between the characters, the audience will be intrigued and entertained by "how all the ladies feel about my character."
Smith is a recent transplant to the Sandford and Fayetteville areas. Originally from New Jersey, he performed in regional productions in the New York metro area when his full-time job with the New Jersey Department of Human Services would allow. Smith appeared in "Pippin," "Godspell," "West Side Story," and "Hair" among others. Locally, he has appeared in the Cape Fear Regional Theatre's "Best Christmas Pageant Ever."
Smith hopes to do multiple shows each year now that he is retired and able to devote more time to his craft. Smith said that with each of his past shows, he was able to gain experience in dancing, singing and acting as well as build friendships with other performers. He found the same camaraderie in rehearsals for "A Sinister Cabaret."
"It has been a pleasure to work with Dr. Gail, who has a lot of background knowledge in vocal training," said Smith.
Tabitha Humphrey, who goes by the stage name Selva Black, plays Percy Barker in "A Sinister Cabaret." Like Smith, Humphrey is a transplant to the Fayetteville area. She is a military spouse with several moves under her belt which allowed her opportunities to perform in a variety of areas to include Hawaii, Canada and South Korea.
"I loved to sing and I taught myself how through Disney songs," said Humphrey. She then decided to try singing on stage and landed a spot in "Little Shop of Horrors" at Camp Humphreys Community Theatre in South Korea. A role as Kate in "Kiss Me, Kate!" followed before a family move to Hawaii. Several performances at the Diamond Head Theatre, a community theatre in Honolulu, followed including "Catch Me if You Can," " South Pacific," "Spamalot," and "To Kill a Mockingbird."

"Hawaii was a wake-up call for me," Humphrey said. "I learned I had to fight for the role I wanted." Humphrey soon found an agent and landed a small speaking role in the 2016 movie "Mike and Dave Need Wedding Dates" starring Zac Effron, Adam DeVine and Anna Kendrick.
Another move took the family to Canada where she performed as Mrs. Lovett in "Sweeney Todd" at the Oshawa Little Theatre.
Now in North Carolina, Humphrey is hitting the local stage with Fayetteville Dinner Theatre, but is looking forward to opportunities for other performances. Like Smith, Humphrey said her experience with FDT has been fun.
"Dr. Gail gave us creative freedom with our characters," Humphrey said. Morfesis allowed the performers to improvise many aspects of their characters.
"A Sinister Cabaret: Love Letters/Sleight of Hand" also features Courtney Parker, Reba Fox, Valerie Humphrey, Kaitlyn Woodrow, Stanley Seay, Gabriel McKern and Vajra Spring. For ticket information visit www.fayettevilledinnertheatre.com or call 910-391-3859.
Pictured above: Fayetteville Dinner Theatre's "A Sinister Cabaret: Love Letters/Sleight of Hand" has scheduled performances April 9 and 10.
Pictured below: (Left) Jim Smith is Sylvester "Sly" Fox and Gail Morfesis (Right) is Francine Maximillian in Fayetteville Dinner Theatre's "A Sinister Cabaret: Love Letters/Sleight of Hand."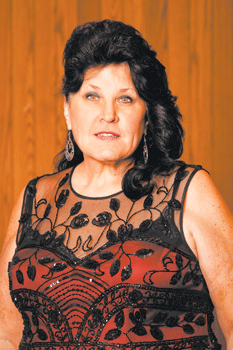 Pictured below: Selva Black is Percy Barker in Fayetteville Dinner Theatre's "A Sinister Cabaret: Love Letters/Sleight of Hand."