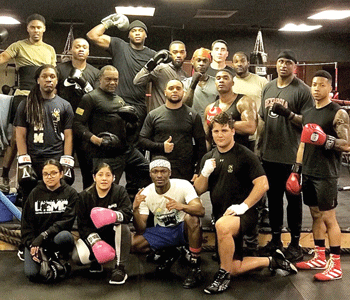 North Carolina USA Boxing presents their 1st annual Carolina Gloves Boxing Tournament May 14 through Sunday, May 16 at Freedom Courts Sportsplex.
Tournament sessions for Saturday are scheduled to begin at noon and 6:00 p.m. Championships will take place Sunday at noon.
"We wanted an event that we could grow every year and it had to be branded with the Carolina Gloves name on it," said Patrick Finklin, tournament director and president of NC Amateur Boxing.
"We decided to have a boxing tournament in Fayetteville because it is the center of the hub of North Carolina."
Finklin added that after COVID-19 many boxers are hungry to start boxing again.
Boxing is a positive intervention that has been proven to help at-risk and troubled youth stay on the right path.
"It is an outlet and a lot of gyms in the United States use it to keep kids out of trouble," said Finklin.
"They see Floyd Mayweather as well as other well-known boxers and their goal is to become one of them because it is not just always about basketball and football."
Boxing can be a platform to not only give kids a positive outlet, but also encourage a long-term commitment to the sport.
"I was too short for basketball and too small for football," said Juan Verdejo, who started boxing in his teens. Now 34, Verdejo serves as the head boxing coach at Burgess Boxing & Fitness in Spring Lake. "I think boxing is a way of life."
The tournament is a way to bring boxers from area clubs together and promote the sport, Verdejo said.
"This event will help bring awareness, be entertaining and help build up local youth," Verdejo said.
The tournament is open to the public and local audiences can also expect to see talent from across the country compete.
"Right now we have people registered from California, Florida, New York and Ohio that are coming to participate in the tournament, said Finklin. "We are expecting about 300 boxers to show up in Fayetteville from 8 years old to 70 years old."
Being a great boxer requires a lot of training, skills and endurance. It takes 4 months to a year to train for a big fight.
"The characteristics of a great boxer are being motivated, having great mental and physical discipline, perseverance and the determination to get better," said Finklin.
"Their training entails stretching, muscle memory, running, sparring, fighting and competing."
He added, "They start off as a novice which is 0-10 fights and once they get more than 10 fights they are in an open division. Every boxer's main goal is to make the United States Olympic Team and afterwards to become pro."
"We have about 6 gyms in the Fayetteville and Spring Lake area and we have boxers from all over the country coming in," said Finklin. "If you have students who are in the boxing gym come on out and support the event because those students will be at the tournament."
Prizes for the winners of the tournament include a Championship Belt and bragging rights for the 1st place winner and a medal for the 2nd place winner.
"We want to bring some exposure of amateur boxing to North Carolina because there are a lot of people who don't even know that it exists," said Finklin. "We wanted to create an outlet for people to be able to be excited about and come out to watch."
All boxers and coaches must check-in Friday, May 14 from 12-6:00 p.m. General admission is $15 and $10 with a student ID. The event is open to the public. For more information call 910-309-6956 or visit www.ncusaboxing.net.
Pictured Above: Head boxing coach Juan Verdejo (center giving thumbs up) will be coaching boxers from Burgess Noxing and Fitness in the 1st Carolina Gloves Boxing Tournament. (photo courtesy Burgess Boxing & Fitness).