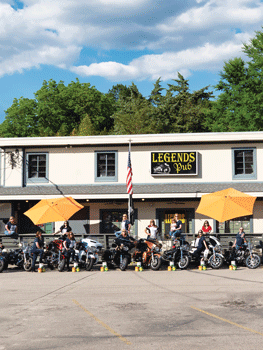 Legends Pub will host their 24th annual Spring Fling the weekend of June 4-6. Known to many locals for its welcoming and altruistic nature, the pub, located at 4624 Bragg Blvd # 1, has hosted the event since owner Holly Whitley purchased it about 25 years ago.
"We take care of our own in our own community, we feel as though our own community needs this more than anything," Whitley said. "It's quite phenomenal for a little biker bar on the boulevard."
Spring Fling began way before Whitley owned the pub. She and a group of friends would host parties at Whitley's house and called it the Gypsy Women Spring Fling.
"It was just a get-together of friends and then when we bought the bar we thought of having it there and at that time one of our friends had had a motorcycle accident and they needed our help so we decided to turn the party into a benefit," she said. "And that's how we all started as a group and Spring Fling is now our largest benefit of the year."
Whitley, in Fayetteville since 1979, bought the pub in the 90's. Ever since, each year the Spring Fling has raised money for many different individuals and causes in Cumberland County.
"We've been around for 25 years and I have got a good, solid base of people that have been with me for many years, supported our benefits and each other, and they knew if hard times came, we would be there to support them as well," she said.
This year's Spring Fling will benefit the local non-profit Seth's Wish, a charity helping those affected by homelessness and food insecurity.
"We had a space in Fayetteville for three years and last year a drunk driver drove their car through our building, which is why Holly is doing the Spring Fling this year to help us get into a new building," said Seth's Wish Founder and Executive Director Lindsey Wofford.
The non-profit offered hot meals and a place for the homeless to relax during the day. At their old site they also had a clothes closet, food pantry, hygiene closet as well as hot showers for people to use.
"With COVID and the car hitting our building we are really depending on the Spring Fling to move towards our goal of getting into a new space, since all our funds are being constantly exhausted," Wofford said. "We help house families as well, helping with electric bills, helping people with hotel rooms during winter nights, so it's constantly a game of keep up."
Whitley said she has helped Seth's Wish before and has since gotten to know Wofford and how she works.
The 2021 Spring Fling will be a free event for all with the kick off on Friday, June 4 with free pizza and a pool tournament starting at 8 p.m. People are encouraged to bring donation items for the raffle and auction, as well as gallon sized canned food items or small pop-top canned food and personal hygiene items.
Saturday will feature the Scott Sather Memorial Poker Run, a motorcycle ride where participants stop at designated locations to pick up cards and build the best poker hand. The event will begin at 1 p.m. and end by 4 p.m. before the auction.
"We do the Scott Sather Memorial Poker Run in honor of Scott Sather, a regular at our bar, he was killed in Iraq in 2001, and we always have a toast for him," Whitley said. "He was a part of our family."
Raffle tickets will be available for purchase for $20 each or $100 for 10 tickets.
"One of our bigger raffle prizes this year is a 70-inch TV among other things," Whitley said.
The event will feature the live-band Bone Deep from Raleigh after the auction at the end of the night.
On the last day of the Spring Fling, there will be a Bike Show, from 1 to 4 p.m.
"After the show, we usually have a lunch of hotdogs and barbecue sandwiches," Whitley said. "I don't ask people to pay for the food because I love people to eat at the bar, just come on down and join us."
The competitions will feature different awards and prizes, she said.
The 2020 Spring Fling was cancelled due to the pandemic but the pub reopened with a remodel and was revamped.
"My staff has been with me for a long time, they all stuck with me through the pandemic and came back, so I didn't have an employment issue coming back," Whitley said. "I had a lot of support from the community in being able to pay my rent and
utilities."
Over the last 25 years, Legends Pub has raised over $50,000 each year.
"The Spring Fling is our biggest event, but we do other events throughout the year as well," Whitley said. "Over the last 25 years or so I would say we may have raised about a million dollars or so for our community. "We never know when someone has the need, so God forbid something happens."
Wofford hopes with the help of the money raised with Spring Fling, Seth's Wish can be back in a building space by this fall before the weather starts getting cold.
"I chose this community to be where I raised my children, and they've grown up and become successful here," Whitley said tearing up. "I just feel like you have to build on your own community. As much strife as we've had in our community this last year, it's been so hard on all of us, my daddy used to always say, we got to take care of our own, never forget our own."
Pictured Above: The 2021 Legends Pub Spring Fling will benefit Sth's Wish, a local charity helping those affected by homelessness and food insecurity. (Photos by Christy Alphin)