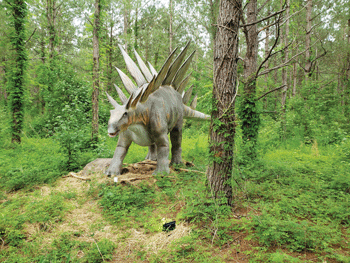 Local entrepreneur Dr. Fred Surgeon, and wife Anita, have once again created a vision for an entertainment venue that caters to the adventurous and focuses on customer service. As the owners of Sweet Valley Ranch, the Surgeons recently opened their latest and perhaps most exciting venture yet — Dinosaur World. The prehistoric adventure awaits visitors of all ages, and like Sweet Valley Ranch itself, has been years in the making.
Sweet Valley Ranch was established in September 2016 when the Surgeons purchased the land off of Sunnyside School Road. At the time they purchased 186 acres of raw land, for a few horses and goats. However, Dr. Surgeon saw potential with the land layout and knew that this could really become a place to share with the community. The ranch now consists of 300 acres.
Sweet Valley Ranch is more than just a business to the Surgeon's, it is also a place that calls back to Dr. Surgeon's own upbringing and he hopes it will eventually be their legacy.
"Sweet Valley Ranch is hands down, out of all the businesses, is one we had to do everything from
the ground up," said Dr. Surgeon, owner of Sweet Valley Ranch.
After about 12 months of owning Sweet Valley Ranch, they decided to expand their animal collection with rabbits and peacocks. "When you said you want that animal, you have to understand the certain care and living situation for that animal," said Dr. Surgeon. About six months after the rabbits and peacocks they expanded with introducing cows and horses.
Now the farm has around 350 animals of different types, from cows and horses, to peacocks and reptiles. The possibilities with the lay of the land were endless, and Dr. Surgeon knew that owning and running this farm in this location was an opportunity to give back to the community.
"Every business I own relates back to some part of my past. Sweet Valley Ranch is no different. Growing up my family lived on a farm, and I can remember times that we would be waiting on the chickens to lay eggs, so we could eat them for breakfast," said Dr. Surgeon.
At Sweet Valley Ranch there is a 1954 Farmall tractor that belonged to his grandfather. This tractor is the most valuable possession to him on the farm, reminding him of his childhood and growing up
on a farm.
In 2017, the vice president of the company mentioned doing Christmas lights on the farm. So, Dr. Surgeon joined a display company out of Missouri. Once everything came in and the team looked at the extent of the project, they realized they needed more time to plan it through. Fast forward to 2020 and the COVID pandemic - the Surgeon's realized that they could bring the joy of Christmas to the people of the community and give them something other places couldn't — animals. With hard work and attention to detail, they were able to bring a Christmas light display to the community. The success proved to be incentive for the planning and development of Dinosaur World.
Now in 2021, Sweet Valley Ranch has opened its gates once again for Dinosaur World. It is a perfect place for the family to experience adventure and see many of the different species of Dinosaurs that now rule over Sweet Valley Ranch.
Different Ticket Options include:
Regular admission includes access to the Dinosaur World Trail, Abandoned Research Lab, Reptile House, Fossil Dig and Farm Animals
Regular admission with Farm Tour includes Dino World Trail, Abandon Research Lab, Reptile House, Fossil Museum, Fossil Dig, and a 30-minute guided tour to experience all Sweet Valley Ranch has to offer. Guests will be riding in a covered wagon pulled by a tractor.
Regular admission with Rescue Mission includes all mentioned above with an Interactive two-hour nighttime attraction that begins on Saturdays at 8:30 p.m. Participants are tasked with the mission of locating missing staff members who were involved with the creation of Sweet Valley Ranch's Dinosaur World. Beware of "Big Rex" and his friends because they are hunting, too. Guests will also be riding through the farm to experience the lights and farm animals.
Regular admission with Farm Tour and Rescue Mission includes all mentioned above.
The Sweet Valley Ranch also has additional excursions that can be purchased onsite such as the Go-Kart Nature Trail Tour, Bouncy Castles, Fishing at the Ranch and Dino-playland.
The trail is a paved trail in the woods, and it offers over 25 animatronic dinosaurs. This experience is one that will take guests back in time to when dinosaurs ran the world. It is not only a fun interactive experience, but an educational one as well.
Sweet Valley Ranch also has concession areas, a produce stand and a gift shop with something for all price ranges. While Dinosaur World is sure to continue to be a summer success, fall will bring the return of the 10-acre Corn Maze, Haunted Hallows of Cedar Creek and the Festival of Lights.
"We don't have to have the biggest and best at the farm, because we do our best to make it about the customer and their experience. Customer services is a big part of the farm," said Dr. Surgeon.
Over 30% of the animals homed on Sweet Valley Ranch are rescues, providing them a safe, caring environment to grow and prosper. Sweet Valley Ranch does not only support local businesses but has also created job opportunities for many people within the community.
Sweet Valley Ranch is located at 2990 Sunnyside School Road in Fayetteville. For more information on tickets and events visit www.sweetvalleyranchnc.com/.