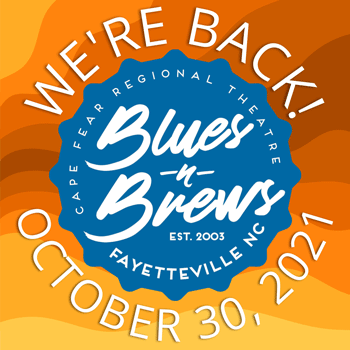 After being suspended for over a year, Blues-N-Brews is coming back to Fayetteville. The annual fundraiser is bringing over a dozen North Carolina breweries to the city, all in order to raise funds for the Cape Fear Regional Theatre.
The usual summer event was moved to October this year since Festival Park only recently opened up. Ashley Owen, the Marketing Director for the Cape Fear Regional Theatre, said that as soon as reservations opened up, they grabbed the Oct. 30 date.
The season won't be the only thing different this year. Instead of the usual 3-ounce sample glass that is given out, attendees will instead be given full size cans of beer. The change comes amid COVID precautions. Having less hand-to-hand contact with the passing of the glass prompted the change.
"We are really hoping that by having the cans and having more products at a time, you are spending less time in line and spending more time in the field, looking at the food trucks and listening to music," Owen said. "It's a little bit different this year, but it's still the same Blues-N-Brews festival that people love."
The list of 16 breweries includes Dirtbag Ales (Hope Mills), Southern Pines Brewing Company (Southern Pines), the Mash House Brewing Company (Fayetteville), Gaston Brewing Company (Fayetteville), Red Oak Brewery (Whitsett), Foothills Brewing (Winston-Salem), Aviator Brewing Company (Fuquay-Varina) and Gizmo Brew Works (Raleigh).
The breweries will be organized by location so attendees will be able to start with the mountain breweries and end with the beachside ones. Owen says that by organizing the breweries this way, people will be able to drink their way across North Carolina. There will also be eight food trucks at the festival so people can purchase food with their drinks.
For those who don't enjoy craft beers, there will be a special tent where people can get seltzers, ciders and wine.
Outside of the several breweries and food vendors, a lineup of three returning bands and musicians will be performing at the festival along with one new performer.
The Guy Unger Band will be playing during the VIP Hour, which is from 4 to 5 p.m. and can only be attended by those who purchase a VIP ticket.
Next will be Nattalyee Randall, who has history not only with the festival but with the Cape Fear Regional Theatre. She has previously performed in one of their productions, but she has also performed as a backup vocalist at the 60th Annual Grammy Awards with Sam Smith.
After Randall, Willie Bradley will be returning to the festival for his second performance. Bradley is a trumpet playing, chart-topping jazz artist from Orangeburg, South Carolina, who considers Fayetteville a second home. He used to teach music in several Cumberland County and Fort Bragg schools.
"During the pandemic, all of my shows started dropping off. I used that time to complete my new CD project," Bradley said. "From March 2020 up until July 2, I was completing my new project. I had stuff to do."
The album, "It's My Time" was released back in July and two of the songs on the album trended on the Smooth Jazz Billboard. The song, "It's My Time" peaked at number one.
Coming back to the festival, Bradley is excited to play not only some covers and his older music, but tracks from his newest album as well.
"I think people are ready to get out and have a great time and I think that even though we are in the midst of COVID protocols, I think it will still be a huge event just based on the reputation from previous events," Bradley said. "I think that it will be a great turnout as usual."
After Bradley, the 2 Bald Guys Dueling Piano Show will perform. Chris Ketchman and Mark Pleasant are known for giving a high energy, interactive, sing-and-clap-along comedy show at many Fayetteville venues. This local act will be performing for the first time at the festival and will close the night out.
A CAN Do Attitude ticket can get you four drinks for $30, if purchased before the event. If purchasing at the gate, the ticket price is raised to $40. Non-drinking tickets are $10, and a single drink ticket is $5. There will also be a $5 discount for active duty military, front line workers, healthcare workers and educators.
The $75 VIP Experience ticket holders will get an extra hour of the festival, 5 drink tickets, shaded seating, exclusive
merchandise, a catered meal and "Unicorn Beer" from the Mash House.
The money will go back to the Cape Fear Regional Theatre to help with costs of performances, their theater camps and renovations.
"It's not been an easy year to be a theatre," Owen said. "The more people that will come to Blues-N-Brews, the better off we will be when we reopen our newly renovated theatre."
The fully renovated theatre is expected to reopen in December, if there are no further delays with supply chain issues.
Owen says they are still looking for volunteers to help out with setup, help backstage, pass out beer, check-in guests, deliver ice to brewers and vendors, and help clean up. There are more than 200 positions available to sign up.
Those who work two or more hours during the event will receive a free t-shirt. Those who work four or more hours will be able to attend the rest of the event for free and receive two tickets to one opening weekend show during the Cape Fear Regional Theatre's 2021-2022 season.
To find out more about how to volunteer, go to https://www.cfrt.org/bnb/
The festival will take place in downtown Fayetteville's Festival Park on Oct. 30 from 5 to 9 p.m. Tickets are available by phone at 910-323-4233, at the Cape Fear Regional Theatre Box Office Monday through Friday from 1 to 6 p.m. or at Anstead's Tobacco Co.