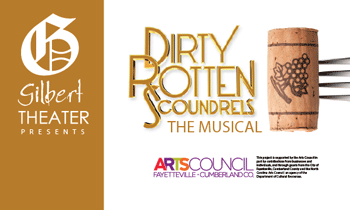 If you are looking for an afternoon or evening of laughter and entertainment, head over to the Gilbert Theater located at 116 Green St. to catch "Dirty Rotten Scoundrels - The Musical" before it is too late. The show runs through Oct. 17.
In the exotic French Riviera, Lawrence Jameson makes his living by smooth talking rich, single women out of their money. He has been in the trade for many years and has gotten his technique down to a tee. But then he bumps into Freddy Benson.
Freddy takes a humbler, more laid back approach, swindling women with emotional lies about his grandmother's failing health and his own economic struggles. The two men initially decide to form a double act but their egos soon clash and the French coast isn't big enough for the two of them.
To settle their rivalry, they agree on a bet: the first to swindle $50,000 from the latest young heiress in town, Christine Colgate, can stay and the other must leave town. However, is Christine really all she seems? Hilarity and confusion ensue as the two men pull out all the steps to prove they are the best con man in town.
The Gilbert Theater is unlike any I have visited. It is a small to medium sized room with a small stage of which the actors use every inch. Prior to the event, there is a refreshment station which includes soda, wine, beer and candy, that is run strictly on donations.
The cast was created through an open audition process. Rehearsals begin three to four weeks before the show starts.
For "Dirty Rotten Scoundrels," the actors in the show made sure we, as an audience, had as much fun as they did performing for us. Chris Walker, who played Lawrence Jameson, was my favorite actor. His voice took command of the room. He was confident and funny and a great singer.
Freddy Benson, played by Dan Adams, was a hoot. His physicality in the show had the audience laughing. He was a tremendous comedic actor and I looked forward to his scenes.
The lead female actress is Megan Barnes playing Christine. Not knowing much of the musical before I attended the show, I was wowed by how she manipulated the audience.
An actress with a small part as Jolene, Maggie Cannon of Fayetteville, was cute and funny. Her bit about Oklahoma made me smile. I am confident I will see her again in the local theaters.
Linda Flynn, Assistant Artistic Director at the Gilbert Theater, is making her debut as director of "Dirty Rotten Scoundrels." Flynn joined the theater in 2017 as an actor in the show, "Evil Dead the Musical," and became an employee in February, 2020.
"I have always had a great passion for theater. In my position I have learned a lot about every aspect of the theater. I get to do every job there is in theater and I enjoy every aspect."
Lawrence Carlisle, Artistic Director of the Gilbert Theater, hopes people have fun at the show. "The goal for all shows is for the audience to have fun and come away thinking that was really funny. Let's do it again."
The show runs through Oct. 17 with shows on Fridays at 8, Saturday at 2 and at 8, Sunday at 2.
Tickets are $18 and can be purchased by calling the box office at 910-678-7186. For more information visit www.Gilberttheater.com or www.facebook.com/gilberttheater.