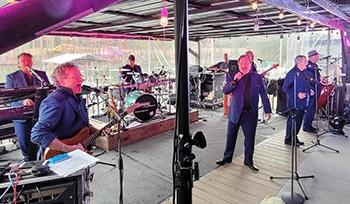 Veterans of Foreign Wars Post 670 have scheduled a new event. Their Spring Fling with The Embers featuring Craig Woolard will be held on March 20, from 4 to 7 p.m. at VFW Post 670.
The Embers were formed in 1958 by Bobby Tomlinson and Jackie Gore.
"[The Embers] were one of the first integrated bands that had a Black saxophone player," said Craig Woolard, lead singer and featured artist of The Embers. "They recorded their first album live from the North Carolina State University student union."
Being in the group was an excellent experience for Woolard.
"The band opened a nightclub in Raleigh, opened a nightclub in Atlantic Beach, drove nice Cadillacs and it was big time for me," Woolard said.
Woolard dreamed of performing early on in life.
"I am from ... Washington, North Carolina, and we would go to Atlantic Beach, and that is when I first heard about The Embers," said Woolard. "I was a musician, and I would look at the stage and wish that one day I could be on the stage performing too."
The Embers laid the foundation for Beach Music in the Carolinas, Virginia, the Gulf Coast region and the beaches. The current band members are Gerald Davis, bass player; Jody Bundy, keyboards; Wayne Free, drummer; Jeff Grimes, guitar; Bob Nantz, trombone; Stephen Pachuta, trumpet; and Craig Woolard, lead vocals. They are supported by sound, lights and setup crew members Julio Eubanks and Bob Blair.
Woolard feels his bandmates are very talented and enjoys performing with them.
"Gerald [on bass] and I joined The Embers the same day in November of 1976," said Woolard. "He is easily one of those influential musicians in my life."
The Embers have recorded numerous albums and single releases that span decades. Some of their greatest hits include "Far Away Places," "I Love Beach Music," "Solitaire," "What You Do To Me" and "Cool Me Out," to name a few.
Woolard has also had independent success as well.
"I have had several hits that include 'Love Don't Come No Stronger Than Yours and Mine' and 'I've Got A Feeling We'll Be Seeing Each Other Again,'" said Woolard.
The Embers' awards and accomplishments include induction into the North Carolina Music Hall of Fame, the South Carolina Rhythm and Blues Hall of Fame, the South Carolina Beach Music Hall of Fame, the honor of carrying the moniker of North Carolina's Official Ambassadors of Music, military coins of excellence for their distinguished service, the Order of the Long Leaf Pine Award and the Group of the Year Award.
"I have won Male Vocalist of the Year at the Carolina Beach Music Awards and Entertainer of the Year many times, so much so that I retired myself from it," said Woolard. "When you win the first few times, everybody applauds, but when you win 15 times, you might get some boos, so I figured I needed to quit while I was ahead."
Some of the band's most significant accomplishments include playing at former President Bill Clinton's Inaugural Party, playing for an ambassador at his home in Ottawa, Canada, and being sponsored by Anheuser-Busch.
"It was a big deal to get sponsored by the national company, Anheuser-Busch, in the 80s, and they picked up our song "I Love Beach Music" and turned it into "I Love Budweiser," so people all over the country were getting to hear that," said Woolard. "They would fly us to different places to play at their conventions in New York City, Chicago, Palm Springs and Hawaii."
Touring is one of the band's favorite things to do, and they have traveled the world extensively, averaging 250 shows a year.
"When COVID-19 hit, everything was shut down," said Woolard. "Everybody sat around and adjusted as best as we could. I was fortunate because, in January 2020, the owner of a radio station asked me if I would be interested in doing radio, so I gave it a try and every Sunday night from 6 to 11 p.m. was the Craig Woolard Show."
The radio position helped Woolard through the pandemic.
"I got the radio job because the Lord knew what was going to happen, so he looked out for me and carried me through," said Woolard.
The Embers hold an annual cruise during the Christmas holidays, and about 300 of their fans show up to the party.
"It is called the 'Making Waves Cruise,' and it is something that I started during my time away from The Embers," said Woolard. "I had my own band, The Craig Woolard Band, and I started the Making Waves Cruise, and when those guys who were in charge called me back, it became the 'Making Waves Cruise' with The Embers."
He added, "We have been doing this cruise for at least 15 years until the pandemic hit."
"Right now we are working on a destination instead of a cruise because of the pandemic and you just don't know what is going to happen," said Woolard.
Future projects for the group involve recording an album.
"Every Christmas, we release a Christmas album to go along with the Christmas show because we do the show the whole month of December all the way up to Christmas Eve," said Woolard.
"I am happy to be able to do what I am doing, and I don't have a problem keeping my spirits up," said Woolard. "If I have got to sing the same songs every night, then I have to find a way to make that interesting, and the way that I do it is to listen and see how well I can sing that song a little better than I did the last time."
The Embers are looking forward to playing good music at the Spring Fling.
"The audience can expect the most entertaining and professional performance that we can possibly muster," said Woolard. "You cannot rest on your laurels, and you have to make people a believer every time that you play."
The Spring Fling will feature food trucks, vendors, music and more in addition to The Embers.
The Spring Fling is free from noon to 4 p.m. and the concert is open to the public.
After 4 p.m., tickets cost is $10 to $15 and can be purchased at the door and online at https://theticketing.co/events/theembersatvfwpost670.
Sponsors, food trucks and vendors are still needed.
Interested trucks and vendors are asked to call/text 910-779-8425 or email agoraproductionsmc@gmail.com.