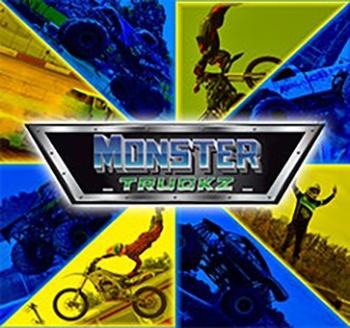 Truckz! Truckz! And more Truckz are headed to Fayetteville's Crown Complex Arena from March 25 to March 27.
"This is a thrill-show featuring highly trained professionals, so first and foremost, we want to tell people: do not try this at home," said Ariel Valeires, on-site manager for Monster Truckz Extreme.
The show offers a variety of "gravity-defying" acts to shock and amaze, emphasizing a "high-octane" experience.
"Most people have heard of monster trucks, but we have so much more than that. We have a human cannonball. Our show is very fast, high speed, high energy and high risk," Valeires said.
This event aims to bring spectacle and awe to its audience, focusing on fun that's appropriate for all ages.
"We want to offer our audience a good time with their family, the whole family, which is entertainment that's hard to come by nowadays. We want to entertain people aged 0-110," Valeires said.
The show will be packed with opportunities for kids to learn, engage and play with the gigantic machines right there on site.
The Monster Truckz Pit Party is a free pre-show at the Monster Truckz event where kids can take pictures and snag the drivers' autographs. Additionally, attendees can learn about the physics and mechanics behind the incredible vehicles before seeing them in action.
Visitors are encouraged to arrive early, as "The Pit" takes place two hours before the show. During this time, young attendees can visit the "Kids Zone," an area complete with rides on a real monster truck, a gigantic slide, face-painting and a bounce house.
The show runs from February to December each year and performs in a different city each week with no weeks off. It's an incredible commitment for the drivers, performers and support staff.
But for Valeires, the long weeks on the road are worth it.
"For me, the best part of the show is to see the same look of excitement on thousands of faces all at the same time," Valeires said. "Most people have only ever seen monster trucks on TV, so they're not prepared for just how loud it is. Seeing all those faces when the engines start is hard to describe. You have to see it to believe it."
The event will be held outdoors, and Valeires has some advice for attendees.
"Honestly, this is an outdoor performance where we perform rain or shine. So check the weather before you come and dress accordingly. If it might rain—bring an umbrella. Be prepared for a very loud show. You're about to experience something you've never seen before."
Showtimes are Friday, March 25, at 7 p.m., Saturday, March 26, at 2 and 7 p.m., and Sunday, March 27, at 2 p.m.
The Crown Complex Arena is located at 1960 Coliseum Dr. For more information and tickets, visit: www.monstertruckz.com.