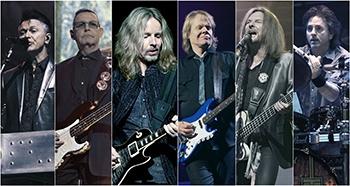 Classic rock band Styx is playing the Crown Theatre on April 23 as part of the venue's 86th season of community concerts.
The band will perform the chart-topping radio hits everyone knows, like "Come Sail Away," "Renegade," and "Mr. Roboto," but hardcore fans need not worry. They plan to take a deep dive into their catalog to play lesser-known songs their longtime listeners will appreciate. With a career spanning more than 50 years, they will have no shortage of songs to choose from for the setlist.
The six-piece band includes James "JY" Young (lead vocals, guitars), Tommy Shaw (lead vocals, guitars), Chuck Panozzo (bass, vocals), Todd Sucherman (drums, percussion), Lawrence Gowan (lead vocals, keyboards) and Ricky Phillips (bass, guitar, vocals).
Gowan spoke with the Up & Coming Weekly on a stop in Boston during this tour. He joined the band in 1999 — nearly 27 years after they formed —and with 23 years under his belt, he is no stranger to the music or the fans, but he does like to be surprised by the setlist.
"My first five years in the band, I used to get really involved in what the setlist was going to be. And for the last 18 years or so, I take myself right out of that equation," Gowan said.
"I prefer to just be surprised by what the other guys decided we're going to play that night and walk on stage and play whatever's in front of me like a menu where someone else ordered it for me."
One thing he does know is that Styx will play new songs from their latest studio album, Crash of the Crown, which hit #1 on the Billboard rock chart within a few weeks of release. The band started writing the album in 2019, recording it during the height of the COVID-19 pandemic in the spring of 2020. Little did they know, the album's theme of hope and survival would mirror the events of the world.
"If there's one theme that runs through Crash of the Crown, it's that it's an album of songs that hint at renewal, and most importantly, renewal after a cataclysmic event. You could put that to a lot of instances, but particularly though, I think the pandemic would be the most obvious one that people can (relate) to," said Gowan.
"It's funny that we wrote most of the songs — all but two of them — prior to the pandemic."
Even with 17 studio albums under their belt, Styx still tries to stretch their creative muscles to make new music that resonates with fans. Their distinct sound leans heavily on melodies and lyrics that fans can relate to, regardless of their age or how long they've listened to the band.
"The classic rock era is now so ingrained in people's musical vocabulary, and Styx being from that era, we need to come up with records that kind of straddle the difficult balancing act of being relevant to today but yet sounding authentic enough to stand alongside the classic records that Styx made in the past," said Gowan.
"(That's) the balancing act we're looking to achieve with the mission of Crash of the Crown."
Fans are undoubtedly excited to see live music after the hiatus of the last two years, and the band is just as eager to get in front of an audience again. They usually play around 100 shows a year, but the 2020 shutdown forced them to take a break from the stage. So instead, band members live-streamed at-home performances for fans and virtual conventions, which Gowan found was a great way to stay connected to the music he loves to perform and the fans.
Styx played a handful of shows in 2021, but now that venues are open to events, they have booked themselves solid for most of 2022.
They will also be on the road with REO Speedwagon and Loverboy this summer for what Gowan calls four hours of classic rock with all the bands' hit songs on the "Live and Unzoomed" tour, an obvious nod to the era of Zoom calls during the pandemic.
"It's going to be so great to re-embrace the epic adventure that we have at every single Styx show, with the audiences there that are probably starved of this (type of) entertainment for far too long," said Gowan.
"And we've been seeing that on the faces of the audiences. There's kind of an extra layer of emotion that we encounter when we come up and see these audiences that we haven't seen now for a couple of years. It's great to just kind of rendezvous again and reignite that flame — that musical flame that's connected us for so long."
Ask a fan of live music what they missed the most during the shutdown, and they will likely say it was concerts. Even musicians like Gowan are eager to be on the other side of a performance. Not being able to see live music was just as difficult for him as a fan because he likes to see his favorite musicians in concert. He believes a live rock show is the greatest form of entertainment, whether he is on stage with Styx or watching from the crowd as a fan.
"I remember the last show I saw before the pandemic was Elton John, and I was so grateful that I went to that show that I didn't put it off and go, 'oh, Nah, I'll be able to catch it a little further up the road,'" said Gowan,
"And that (show) carried me in a lot of ways through the whole (shutdown) — the desire to get back to that ourselves."
Gowan is eager to return to North Carolina this April and remembers the area from previous tours.
"I love being in the Carolinas in springtime. It's just a fantastic place," he said.
"(The) atmosphere is just so beautiful and particularly at that time of year. That's what I get excited about because I like to walk around if we've got any time at all, even an hour where we get away. I love to go, and kind of absorb the areas that we're in, and North Carolina's definitely high on that list for me."
Tickets are on sale now. General seating prices range from $55 to $100. VIP tickets are on sale for $225. The show starts at 7:30 p.m. For more information, go to crowncomplexnc.com.