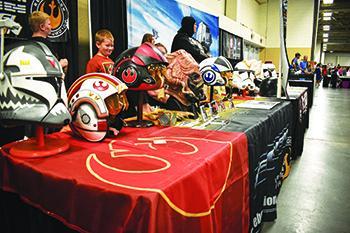 Fayetteville Comic Con is coming to the Crown Complex Convention Center from April 23 to 24 and promises two days of fun for self-proclaimed geeks of all ages.
Fayetteville stands out because it draws people interested in all pop culture, not just comic books.
"We're just fans who found that Fayetteville has an amazing collective of people interested in superheroes, movies, anime, cosplay, gaming, video gaming, tabletop role play (and more)," said organizer Keith Gibbs.
"We're more of a homegrown community of geeks and nerds, and we think that there's a little bit of geek in everyone."
The guest list includes 30 voice-over actors, comic book legends and stars of television and screen, ready to meet fans, sign autographs, participate in Q&As and pose for photographs.
Anime fans can meet Joshua Seth, one of the voices behind "Digimon Adventures," and Wayne Grayson, a favorite from "Yi-Gi-Oh!"
Guests representing "Power Rangers: Wild Force," "Teenage Mutant Ninja Turtles: The Last Ronin" and several actors from action and horror movies will also be there.
The Fayetteville convention is one of the most interactive iterations of Comic Con, according to Gibbs, because attendees can participate in multiple events during the show. There will be a spoken-word rap battle, a cosplay lip sync contest and specialty panels with topics chosen by fans.
Attendees will also have a chance to compete in a trivia game show called Nerd Slam, where they can test their knowledge of geek culture. Contestants will be selected from the audience in a lottery-style drawing similar to "The Price is Right."
Attendees who come dressed as their favorite characters (known as cosplay) will have the chance to enter costume contests. Kids will have their own competition on Saturday.
"We really like to celebrate the families who bring their kids in on the first day, so everybody walks (the) stage," Gibbs said. "But that's really designed just to encourage cosplay among kids so that it's more of a celebration."
Adults will have a chance to enter one of two contests on Sunday. One is geared toward people who purchase pre-made costumes, and the second contest, the Master Class Competition, is for cosplayers who have crafted their own regalia. They will have a chance to win a $500 first-place prize for their craftsmanship.
Cosplay is a big part of all Comic Cons, and the Fayetteville convention will be no different. Several local cosplayers will have interactive presentations that will educate and entertain onlookers, including an experience in creating a mythical land through set dressing and prop building.
Special guest Karen Whitfield, who has been cosplaying since the late 1970s, will chat about her experience traveling to conventions as Bronze Batgirl with Adam West and Burt Ward, the actors better known as Batman and Robin from the 1960s television series.
Since it started, Rocky Melvin, a cosplayer from Goldsboro, has attended Fayetteville Comic Con. He is debuting a new "Transformer" costume this year: Blue Angel. Melvin has been working on it for two years and spent one year training to wear the gear and learning to walk on stilts. He is 6'4" but will be an astonishing 10 feet tall when he is suited up.
"I absolutely love getting in costume just to see kids' (faces) light up and not know if what they are seeing is real," he said.
Wrestling will be returning to the Fayetteville Comic Con this year. The 2-6 Wrestling Academy will present live wrestling with Fayetteville-based performers and stars from the independent circuits on the East Coast.
There will be many opportunities to shop for those looking to score unique souvenirs. More than 90 vendors will display and sell items like vintage toys, prop weapons and comic books, plus artisans showcasing handcrafted items and artwork.
Fayetteville native Joe Covas, a comic book and pop culture fan artist, looks forward to sharing his work at the event.
"I think what makes Fayetteville (Comic Con) special for me personally is that it's my home. Having a venue for fans of pop culture and comic books means a lot to me because growing up here, there wasn't anything like this," he said. "It's also a great way to help support many of the local artists and offer them exposure."
The Fayetteville Comic Con started in 2015 as a one-day event but has expanded to a twice-yearly, two-day convention in the spring and fall. Gibbs expects upwards of 10,000 people for this year's spring show.
Tickets are $25 for adults and $20 for young adults 13 to 20 and are valid for one day of admission. Costumes are encouraged but not required. Visit https://fayettevillecomiccon.com for more information or to purchase tickets.