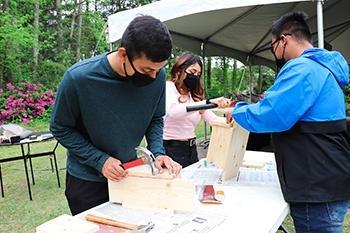 It's springtime in the Sandhills. The local flora is alive with color, and it's a perfect time to grow something beautiful. For those born without a green thumb — not to worry; the Cape Fear Botanical Garden is here to help.
The second annual Gardenmania event returns to the Cape Fear Botanical Garden on Saturday, May 14, from 9:30 a.m. to 4 p.m.
Canceled in 2020 due to COVID-19 concerns, Gardenmania made its debut in the spring of 2021 with great success. This year promises to be "bigger and better," said Meghan Woolbright, marketing director at Cape Fear Botanical Garden.
Fayetteville is a city that shows a lot of love for its local musicians, artisans and makers of all kinds. Gardenmania brings the same exciting energy to a skill set that's perhaps not celebrated enough.
"Our Director of Events and Marketing, Sheila Hanrick, wanted to create a signature event that would give a festival-type atmosphere celebrating all things gardening; thus, Gardenmania was born. Anyone interested in learning more about gardening, art, birds and sustainable living will have a blast!" Woolbright told Up & Coming Weekly.
Designed as a garden symposium, participants can look forward to a slew of activities that both enrich and educate throughout the day. From those who feel right at home in their flower beds to those who aren't sure how to get started, Gardenmania has a wealth of knowledge to sow.
Gardenmania will have several presentations and workshops to entice advanced and novice gardeners alike. Participants can sign up for camellia pruning demonstrations, berry gardening, make/take herb garden, DIY bird feeder and create/take sculpted daylily canvas, to name a few.
Woolbright is especially excited for this year's keynote speaker, Bryce Lane. Lane is a professor of horticulture at North Carolina State University and the former host of the Emmy Award-winning show "In the Garden with Bryce Lane." Professor Lane will be leading a special workshop on container gardening for those who sign up. One lucky garden visitor will win his creation in a raffle.
In addition, Amber Williams, park ranger supervisor at Lake Rim Park, will be leading a table talk about bird watching.
Guests wishing to attend workshops like "Build Your Own Bird Feeder," "Make and Take Your Own Herb Garden" or "Daylily Canvas Painting" will need to select "add-on" when pre-purchasing tickets on Eventbrite.
For those simply wanting to enjoy a lovely day outside, Gardenmania is ripe with things to do. New this year, the Cape Fear Botanical Garden will have a plant sale, and Sustainable Sandhill's Farmer's Market will be in attendance with locally made crafts and produce.
Gardenmania is a family-friendly event, and there will be plenty of activities to keep the kiddos entertained. Pond dipping, a scavenger hunt, a seed table and farm animals provided by Sweet Valley Ranch ensure a variety of fun for all ages in attendance.
No day of education, entertainment and fellowship would be complete without good food. Gardenmania will have local fares such as The Walking Crab Food Truck, Hollywood Java, Lady and the Frank and Tropical Sno on-site to assist in that aim. Several vendors will also have food and drinks to sell.
While fun and camaraderie are a priority on May 14, Woolbright expressed her passion for the value of this event to the community and its long-term benefits to those in attendance.
"Gardenmania is about educational opportunities, social interaction and an awareness of gardening and sustainability. Gardening teaches a person reliability, self-confidence, curiosity, teamwork, patience and so much more. These are all important traits that all people must have to be successful. Being able to experience growing from seed to harvest is a memory that will last a lifetime."
Founded in 1989, Cape Fear Botanical Garden has been an "urban oasis" within the hustle and bustle of downtown Fayetteville. Popular among tourists and locals alike, the Cape Fear Botanical Garden strives to evoke a sense of wonder and a deep appreciation for the beauty of nature.
"Whether it's the chosen venue for your engagement, wedding, maternity photoshoot, baby shower or your child's first birthday party, Cape Fear Botanical Garden is where memories are created," said Woolbright.
Gardenmania, and events like it, speak to Cape Fear Botanical Garden's desire to not only educate their guests but inspire them as well.
"At the end of the day, I hope people feel encouraged and excited to learn more about gardening through the activities and workshops we offered," said Woolbright. "I hope visitors find gardening to be a new hobby that relieves their mind, body and soul. I also want there to be an anticipation for the next Gardenmania!"
"There's always something blooming here at Cape Fear Botanical Garden, twelve months out of the year. Whether it be our camellias in winter, the tulips in spring, sunflowers in summer, or the ginger lilies in the fall."
The Cape Fear Botanical Garden's homepage boldly proclaims, "Nature is the Poetry of Earth." With events like Gardenmania and their continued role as an educational resource, Cape Fear Botanical Garden ensures earth's poetry is heard.
Gardenmania is free for members. $10 for non-members. Non-member children's tickets for ages 6-12 are $5. All children under five are free. When pre-purchasing tickets, workshops require an "add-on" before checkout.
Tickets can be purchased at www.eventbrite.com/e/2022-gardenmania-tickets-328357113967?aff=ebdssbdestsearch.
Cape Fear Botanical Garden is located at 536 N Eastern Blvd.