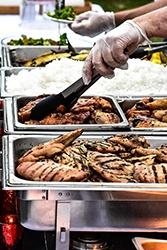 Channing Perdue wants people to experience the taste of locally grown produce and farm fresh meat, so she hosts Farm to Table dinners twice a year at her family homestead.
The spring event, on Saturday, May 21, will include a cocktail hour with charcuterie and wine followed by a three-course dinner prepared by a local chef. People will also have a chance to tour her property, Farms Helping Families, and meet their animals.
Locals will not have to go far to reach the 10-acre farm.
"We're basically in the center of Fayetteville. So, we're easily accessible from I-95," she said. "Our property's a little hidden gem because our house is right on the road on Cedar Creek Road, but then our property goes back behind it, and it's peaceful back there."
She and her husband purchased the home and land just over four years ago. They decided to stay in the area after he left active military service and joined the Reserves. The home was built in the 1940s and renovated before they moved in, but the land needed their help.
"(It) was completely overgrown, so we kind of rejuvenated it. It used to be a farm that raised mules and turkey. We've redone a lot of the pastures," she said.
The idea for having a farm came before Perdue even found the property. She started with a desire to teach her children how to grow vegetables in a garden, then she decided to purchase chickens so they could have fresh eggs.
From there, her ideas grew to include having livestock and growing produce on her own farm. She also wanted to teach other children and adults the joys of farming and sustainable practices and provide farm fresh products to the community. The family now owns chickens, hogs and dairy goats and plan to add turkeys and cattle in the future.
"I really wanted to have a farm to help families to learn about food, learn about where food came from and help our community," she said.
Perdue is a self-taught farmer who learned from classes through the Cumberland County Cooperative Extension and the Soldiers to Agriculture program through North Carolina State's Agricultural Institute. The program introduces veterans and their families to careers in agriculture.
After learning to develop her own land, Perdue began helping others interested in sustainable farming for their families. She shares her own experiences and helps them plot a piece of raw land with the appropriate areas for livestock and crops.
"The thought process came to (me) because a lot of the farmers now are single commodity commercial farmers," she said "My brain goes back like hundreds of years before things got commercialized to 'How did we sustain life back then? What did we grow? How did our communities eat?'"
Farms Helping Families has camps for kids teaching them how to start their own gardens. Each child is given a selection of vegetable seeds that they can use in a recipe for vegetable dip or salsa when they harvest the produce. She believes it is important for kids to understand where their food comes from.
"We started with chickens because (my kids) didn't understand that eggs didn't just come from Walmart or the grocery store. They actually came from a chicken."
The Spring Farm to Table dinner is Perdue's chance to share their family's story and their hope to rebuild the culture of small sustainable farming. She wants to use the land to continue teaching people to build farms so they can provide for their own families.
"It's taking a piece of land and figuring out how you can feed your family, but also feed the community."
Tickets and more information about the event can be found at https://farmshelpingfamilies.com/events.