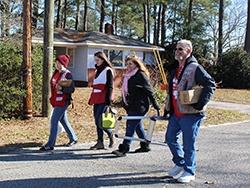 Local firefighters will be making the rounds in Hope Mills neighborhoods on Saturday, May 21, but not to fight fires. They want to teach residents about fire safety and the importance of having a working smoke alarm in their homes.
The American Red Cross Sandhills Chapter partnered with the Hope Mills Fire Department, Town of Hope Mills, United Way of Cumberland County and Cape Fear CERT for Sound the Alarm, a national initiative to install 50,000 free smoke alarms with partners in more than 50 at-risk areas during the month of May.
Hope Mills was chosen because they have had an increase in home fires. Volunteers placed door hangers on homes earlier in the month to let residents know about the event.
Since launching in 2014, the program has helped save 34 lives in eastern North Carolina by installing more than 31,600 free smoke alarms making more than 13,000 homes safer.
According to the Red Cross, every day in the United States seven people die in home fires, and many occur in homes without smoke alarms.
Children, the elderly and people in low-income communities are the most vulnerable during house fires and they are the most likely to live in homes without smoke alarms.
"Smoke alarms save lives," said Phil Harris, executive director of the American Red Cross Sandhills Chapter. "The chance of survival is greater when you have a working smoke alarm."
In fact, the Red Cross says a working smoke alarm can double a person's chance of survival of a residential fire.
Firefighters and volunteers will be visiting homes in Hope Mills from 9 a.m. to 2 p.m. the day of the event. The visit lasts about 20 minutes and includes installation of a smoke alarm (or changing the batteries in an existing one) and tips for fire prevention and preparedness.
"We sit down with homeowners or tenants and children to make sure they have two ways out of the house, (and ask) 'do you know to crawl under the smoke?'" he said. "There are a lot of tips and things that we share during the visit, in addition to either checking working smoke alarms, changing batteries or providing new alarms."
Smoke alarms have a life span of 10 years, so residents who receive one during this event will be added to a list to receive a replacement when the unit expires.
The American Red Cross Sandhills Chapter and Hope Mills Fire Department work together year-round to help victims of fires and other emergencies. They are eager to meet the community to teach prevention and preparedness so residents can stay safe and will not need their services in the future.
Community volunteers can sign up to help install smoke alarms or be on hand to share fire safety information. No experience is required. The Red Cross will provide training the morning of the event.
Residents can learn more at SoundTheAlarm.com/enc, sign up to volunteer or schedule an appointment for a free installation the day of the event.