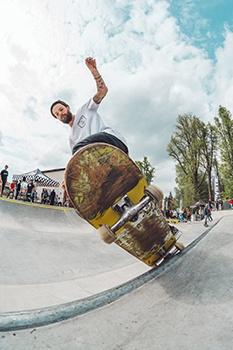 Tri-State Underground and the DaVille Skate Shop are hosting a concert May 28 at 8 p.m. in the skate shop at Rowan Skate Park. The concert will showcase three bands, two local and one from New York, who will play until midnight.
"I think it's going to be a really good time," said Timothy Day, co-founder of Tri-State Underground. "I book bands I want to see live, and as a result, I'm hyped about every show we put together. Hopefully, everyone else enjoys it."
Machinegun Earl, out of Raleigh, Second Class Citizen from New Bern, and Like Minded Criminals from Long Island, New York, will all be playing throughout the night.
"I had a large list of local bands I was able to choose from. I haven't seen the two local bands in person yet, but the recorded stuff they have sent me in their submissions is pretty fantastic. I'm definitely looking forward to seeing them live at a Tri-State show," Day said.
"(Like Minded Criminals) have done a ton of shows for me over the years. Anyone who comes out to the show will very much enjoy these guys. They have to be one of the best on-site bands I've ever worked with."
Tri-State Underground began in the Wilmington, Delaware, area about five years ago. The purpose of the group was to bring together lesser-known bands with more well-established bands, but as Tri-State Underground evolved, they began to find another purpose: to help out communities through their shows. Currently, several of the group members live in North Carolina and have been working to bring shows to the area.
They ask concertgoers to bring non-perishable food items, which are donated to local food banks. Proceeds from the sales of their T-shirts and sweatshirts are donated to local charities and food shelters. Rainbow Records contributed used vinyl albums to Tri-State Underground, which they raffle off at every show. The proceeds of the raffle are also donated.
Admission to the concert is $15, paid at the door. Part of the proceeds are paid to the bands, but the rest will be given to Friends of the Skateparks Foundation.
"When I was a kid, I loved skateboarding. It's cool to go back and live that era again in a sense by putting together a show at a skate park. Since I started Tri-State, there have been a few things that I have wanted to do and have been interested in doing that haven't come to fruition yet. One of those things was putting together a show at a skate park," Day said.
Day says he hopes to continue to work with Terry Grimble, president and founder of the DaVille Skate Shop.
"We are hoping that eventually, either in conjunction with Tri-State or just with Terry and other people he works with, we might be able to do full-on festivals outside at the skate park," said Day. "The goal for him, and I hope I get to be a part of this, would be to utilize the outdoor pavilion and host music events outside as well. It's a great spot; the scenery, the halfpipe, the bowl is there, the little creek with the walk-over bridge, the scenery at the park is just spectacular."
The Half Pipe Dream concert will be held on May 28 at the DaVille Skate Shop and Rowan Skate Center. For more information about the show, visit https://stayhappening.com/e/half-pipe-dream-E2ISUARIOBI. For more information about the Rowan Skate Park, including summer camps and taking lessons, visit www.rowanskatepark.com/.