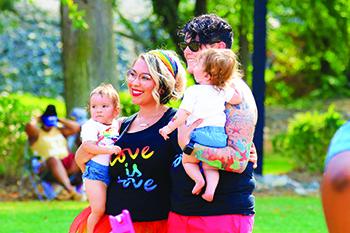 The Gallup Poll first measured LGBTQ data within communities in 2012. At the time, the population who identified as LGBTQ was around 3%. In the latest poll, Gallup reports the number of people who identify as LGTBQ has risen to 7.1%, with higher percentages among those born from 1981 to 2003.
"If you take in the population of Fayetteville, that means there's about 15,000 people in Fayetteville who identify as LGBTQ," said Katrinna Marsden, president, Fayetteville PRIDE. "In Cumberland County, that's like 24,000. If you look at the surrounding areas, that's around 60,000 people who identify as LGBTQ, and that's just the general percentage."
Fayetteville PRIDE began in March 2017 with a PrideFest interest meeting at the Cliffdale Library. Previously, a Facebook group had been what connected LGBTQ individuals in the area, but during the meeting, it became clear to attendees a nonprofit group could really help the community.
By April 2017, a board was set up; Marsden, a founding member, wrote the bylaws, and they were signed into action. The organization achieved nonprofit status in October 2017.
According to its website, Fayetteville PRIDE's mission is "to instill pride, celebrate unity and embrace diversity and inclusiveness in our LGBTQ community and allies, and provide a support network and educational advocacy group dedicated to increasing awareness and acceptance."
"We sat down as a board and decided that yes, having a PrideFest was a goal, but we didn't want that to be our only emphasis. We knew pretty quickly that we wanted to have community service projects, we wanted to have events for the community, we wanted to be involved in more ways than just putting on a party," Marsden said.
Community projects for the organization have helped groups such as Seth's Wish, a homeless center in Fayetteville. They organized a uniform drive for school uniforms. This year, the focus of Fayetteville PRIDE's community project will be to help feed the hungry.
Fayetteville PRIDE also has a youth engagement group. Meetings are on the third Saturday of every month and are open for kids aged 12 to 19. The meetings are run by a board member who is also a social worker.
"The group focuses on learning about empowerment and living authentically," Marsden said. "They explore that through artistic expression, and they work with a local artist."
A long-term goal of Fayetteville PRIDE is to open a community center. Marsden expressed the desire to have a library with LGBTQ reading materials for all ages, spaces to have meetings more often than once a month and space more available for walk-in hours.
"It can be hard for people to find resources," she said. "We are increasing awareness and acceptance for the community. It has been our goal since the beginning to have a community center. We'd use that as an umbrella for other LGBTQ organizations to use that space and for people to have meetings."
Fayetteville PRIDE helps out the local civilian community and the soldiers of Fort Bragg. One of the very first events for the organization happened on the military installation. The group was invited to a panel discussion of transgender rights in the military during Fort Bragg's LGBTQ observance day in 2017.
The organization has put on PrideFest every year since 2018, with the exception being 2020 due to the COVID-19 pandemic. This year, PrideFest will be held at Festival Park on June 25. PrideFest is the largest fundraiser in the Fayetteville PRIDE calendar, but Marsden wants the community to know Fayetteville PRIDE is more than PrideFest.
"We aren't just a festival, we are an organization that is year-round, and our mission is about embracing diversity. It's about being a support network and being an educational advocacy group," she said.
"I think that most people who are LBGTQ have spent some part in their lives, and that time varies for everybody, where they've wondered how they fit into the definition of what normal is. I think that when you are kind of figuring yourself out, finding out that there is a group of people who have a similar experience to that makes you feel like you have a place in the world," she said.
For more information, or to donate to Fayetteville PRIDE, visit www.fayettevillepride.org/. For more information about PrideFest, pick up the next edition of Up & Coming Weekly on stands June 8.