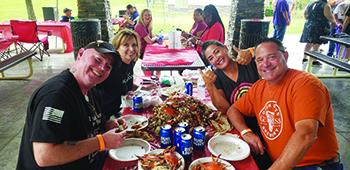 While the third Sunday in June is typically reserved for celebrating dads, the SouthEast Crab Feast is hosting an event the whole family will enjoy.
On Saturday, June 18, Southeast Crab Feast will bring their wildly popular low country heritage all-you-can-eat blue crab event to the John D. Fuller, Sr. Recreational/Athletic Complex.
The event will start at 1 p.m. and continue until about 6:30 p.m. The day will be split into two sessions, each lasting two and a half hours.
Ticketholders can bring their plates up to a serving station doling out fresh, perfectly seasoned blue crab and then slide over to get a side of fish and chips.
The SouthEast Crab Feast supports fishers and crabbers of North Carolina, South Carolina, Georgia and Florida who harvest and deliver blue crabs and other seafood within 48 hours of the event. Everything is hot and fresh and cooked on site.
In business now for over a decade, Jamell Hamilton, owner of SouthEast Crab Feast, initially just wanted to bring the saltwater memories of his coastal South Carolina childhood to a few friends and family.
"Prior to this business, I was in corporate America," Hamilton explained. "I would have conversations with people about where I grew up in Hampton, South Carolina, and people were intrigued. They encouraged me to throw a feast in Charlotte. I went home to South Carolina and brought back some fresh seafood to enjoy with friends and family at no charge. I estimated about 23 to 30, and over 100 showed up."
Later that same summer, Hamilton organized an event selling out around 150 tickets in just two days. That's when, he said, a light bulb went off. "I wondered if people in other cities would enjoy the same experience. The following year we did three cities, Columbia, Charlotte and Raleigh."
Since that initial feast in 2010, the Charlotte, North Carolina-based business has grown to include stops in about 32 cities up and down the Southeast. Fayetteville has been a popular stop for about the last five years or so.
Hamilton credits the success of the SouthEast Crab Feast to keeping things simple and delivering a great experience in a family-friendly environment.
"People love it, and they come to have a great time," Hamilton told Up & Coming Weekly. "We're well-organized, I have a great staff, and people walk away with a smile on their faces. We cater to all demographics and celebrate a love for crab. We offer something most people can't get anywhere else."
Keeping ticket prices low is a commitment Hamilton takes seriously. Opting to play jazz music over a PA system instead of offering live music, for instance, is a choice driven by a desire for this experience to not be out of reach for people and their families.
"If you compare our ticket price to other crab feasts, it's easily doubled," he explained. "I wanted to kick the ticket price down so whole families can come out without it being a burden. We make it accessible — if I can walk out and see a table of three generations eating our food, that's a success."
SouthEast Crab Feast events help raise funds for cancer research and treatment organizations such as the American Cancer Society and St. Jude's Children's Hospital.
Adult tickets for ages 12 and up are $38, and kids tickets for ages 5-11 are $15. Tickets can be purchased at https://southeastcrabfeast.com/.
The John D Fuller, Sr. Rec Center is located at 6627 Old Bunce Road in Fayetteville.