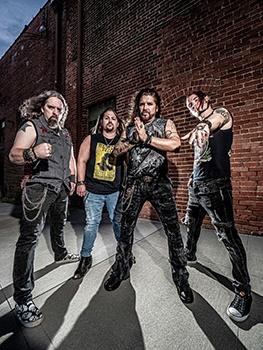 Rock'n On The River concert series featuring Fayetteville's The Fifth and Stone Whiskey will be held Friday, June 17 at 6 p.m. at Campbellton Landing on the Cape Fear River.
"We are known for our high energy live shows, and it is a very crowd interactive rock 'n' roll experience," said Roy Cathey, lead singer of The Fifth. "We like to give the audience the kind of performances of the good old days when the bands were on the stage really entertaining the crowd."
The Fifth is an 80s rock band that has been in existence for 20 years, and the members are Justin Womble, lead guitar and vocals; Gary Smith, vocals and drums; Jake Tripp, vocals and bass guitar; and Roy Cathey, lead singer.
"We are a pretty good mixture between modern rock and classic rock," said Cathey. "We have three CDs out, and we were just recently signed to RFK Media, which is a new label headed by Ron Keel."
He added, "Ron was the front man for an 80s metal band called Keel, and The Fifth is the first band that he decided to sign to his new label."
"We also have a new video out, and we have just come off of a nine-state tour," said Cathey. "We have been very busy lately supporting our new EP, which was released a couple of months ago."
The band's hits include "Shake Little Sister" and "Lost."
"We will do a mixture of our music, and we are going to play some favorites for the audience to give them a little taste of yesteryear," said Cathey. "We are going to throw in some Guns N' Roses, some old-school Van Halen and make sure that everybody has a little bit of something."
Some of the greatest songs that are written come from a specific inspiration, and the band's three CDs have songs that were written about life's experiences. The song "Shake Little Sister" comes from Cathey spending many years as a DJ in a nightclub. "Lost" is about his experience during a divorce and "Even To This Day" is about dealing with child abuse and was featured on the TV show "Grey's Anatomy."
"So we have really tried to touch on many subjects with our music, and it is not only about partying, chicks, sex, drugs and rock 'n' roll because we always try to put a message behind our music as well."
The band is a national touring act, and they also toured in Japan in 2008. They are looking forward to an upcoming tour that is on the horizon.
"It has been a long time since we played for Fayetteville, and we look forward to everyone getting a shot of The Fifth," said Cathey. "We are going to give you something for your ears, something for your eyes and everyone will walk away happy."
The concert is free and open to the public. For more information, call 910- 797-7140.