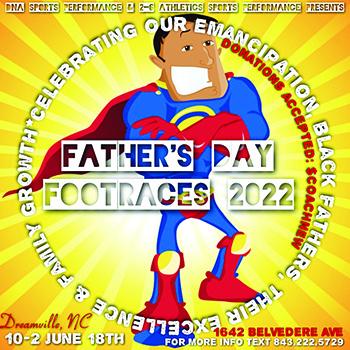 Discipline In Action (DNA) Sports Performance LLC, in partnership with Catch These Hands Massage Co. LLC, invites everyone to come down for a unique Father's Day celebration. The third annual Father's Day Footrace will occur at Mazarick Park on June 18, starting at 10:30 a.m.
Unlike previous years, this year's festivities will include a Debonaire Dad's Walk to honor those fallen. This event will also roll into a Juneteenth celebration.
The Father's Day Footraces began with Calesio Newman, DNA Sports Performance LLC owner, school teacher and retired pro track and field athlete. Newman, embroiled in a contentious custody battle for his daughter, wanted nothing more than to run outside and play with her.
After being granted custody, Newman wanted his first Father's Day with his daughter to be a celebration. The Father's Day Footrace was born from there.
"Our first year, five people showed up," Tiffany Newman, owner of Catch These Hands Massage Co. LLC, said. "We bought about twenty pizzas, had a DJ, and nobody came, but we weren't discouraged. We rode around and gave away pizzas and juice to the homeless. It was bittersweet but an awesome experience."
From those humble beginnings, the Father's Day Footraces has grown into a massive undertaking for the Newmans and a supportive slew of sponsors, community volunteers and dads from all walks of life.
"Every year, it's gotten bigger," Tiffany Newman said. "It more than doubles each time, and I'm expecting over 100 kids this year for the foot race and even more for the Juneteenth celebration. I reserved 666 tickets on our event page to represent the 6 protons, neutrons and electrons that make up melanin," she continued. "This event is for everyone, but we're proud to celebrate Black excellence whenever and however we can."
Kids and their families will be treated to footraces of the old-school variety from 10 to 11 a.m. Newman hopes three-legged foot races, potato-sack races and a little healthy competition will help families enjoy time together outdoors.
E.E. Smith's Magnificent Marching Machine will lead the Debonaire Dad Walk in a traditional funeral procession starting at 11 a.m. The walk is one of solidarity and is intended to commemorate fallen fathers, who, in giving their lives for freedom, are no longer here.
Folks in attendance can look forward to a pizza party at noon, tribal face painting, a bouncy house, DJ Scooby, fun cultural facts, spoken word artists, Father's Day swag bags and more.
The Newmans feel the importance of an event like this cannot be overstated, especially within the African American community.
"The Black community doesn't have enough fathers available," Tiffany Newman said candidly. "We wanted to create an environment where there are enough dads for everybody. We always want to encourage male groups and fraternities in the community to come out and volunteer some of their time to run races with these kids. And what better way to celebrate Black fatherhood than on Juneteenth?"
This is the event's second year incorporating the newly minted federal holiday. A family-reunion-style barbecue is set to kick off around 2 p.m. There will be drinks, food, music and fun — all free of charge.
"This is a party for all of us," Tiffany Newman explained. "I just want to feed my family. You never know who's your family, so we're all family. Enjoy your sister from another mister or your brother from another mother," she joked.
People are encouraged to bring blankets, chairs and coolers. There will be pavilions open for games, dominos and dancing.
"This is a family gathering, everything is provided, and people are expected to come and have fun," Newman stressed.
More than anything, the Newmans hope important connections are made during this time of joy and celebration.
"We want to show fathers some love," said Tiffany Newman. "But I want to hear how much the kids had a good time, made new friends or found new role models. I hope everyone understands that this day is about family, the ones we have and the ones we make."
This event is free and open to the public. However, donations toward next year's event are accepted. Mazarick Park is located at 1612 Belvedere Ave. in Fayetteville. Tickets can be found on Eventbrite at debonairedadwalkjuneteenthinthepark2022.eventbrite.com.