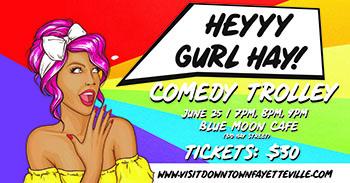 It will be a night of drinks, laughter, fun and PRIDE in downtown Fayetteville on Saturday, June 25.
Cool Spring Downtown District will host its inaugural Heyyy Gurl Hay Comedy Trolley featuring the comedic stylings of three fabulous North Carolina Queens: Amanda LaRouxx, Michelle Michaels and Aida Stratton.
Immediately following PRIDE in the Park, the comedy trolley will depart from Blue Moon Cafe at 7 p.m. Drinks will be permitted on board as the trolley makes its way through downtown.
Cool Spring Downtown's Director of Marketing and Events, Lauren Falls, is excited about this event and notes that it speaks to the heart of Cool Spring's mission to bring diversity and inclusivity to its events.
"The Cool Spring Downtown District's mission is to not only create an arts and entertainment district but to promote an inclusive environment for our diverse community," she explained. "Our downtown community will display their PRIDE flags, and next to the Cool Spring Downtown District's office is a PRIDE photo station for all to enjoy."
Up & Coming Weekly also spoke with Amanda LaRouxx and Michelle Michaels, and both shared their excitement for the upcoming event and their thoughts on the importance of LGBTQ visibility.
"We've been told to go all out," joked current Miss NC PRIDE, Michelle Michaels. "I would definitely say this is an adults-only event."
"Everyone and anyone who likes to have a good time should jump on the trolley," echoed Amanda LaRouxx. "I want people to go home with sore abs from laughing so hard."
With over 35 titles and over 30 years of performing experience between them, LaRouxx and Michaels shared their love of drag and the stage.
"I have been performing in drag for eight years," LaRouxx said. "The one thing I love about drag is the transformation and the art form."
Michaels, whose been performing as that character for nearly 25 years, shares a similar sentiment, saying, "The artistry is beautiful; nothing like seeing a dedicated performance and having it move you. I love the audience interaction and the emotional ties I can have with them."
In its modern interpretation, PRIDE originated from riots (most notably, Stonewall) as people in the gay community fought for their rights and fair treatment from the government and police throughout the 1970s.
In keeping with the tradition of strength, pride and resilience, PRIDE marches turned into the global parades and celebrations more well-known today.
It is precisely due to the bitter roots and violent history of PRIDE that LaRouxx and Michaels feel empowered and responsible for holding up a legacy of visibility.
"Visibility is everything," Michaels explained. "It's PRIDE month, and we're not celebrating who we sleep with. We celebrate our community becoming fuller than those before us. We celebrate the lowering of fear walking down a street, not being harassed or beaten up just by living. I celebrate the struggles and hard work of the generations before us who fought to make it a little freer."
LaRouxx agrees, saying, "LGBTQ visibility is so important, to be able to show the diverse, inclusive community we have built. We want to let those who feel invisible know they are seen and heard."
Ultimately, both performers want people to come out and have some laughs and a good time with one another.
Tickets for the event are $30 and include one adult beverage. This event is restricted to those 21 and older.
Blue Moon Care is located at 310 Hay St. in downtown Fayetteville.
Tickets can be purchased at www.eventbrite.com/e/heyyy-gurl-hay-comedy-trolley-tickets-346149461357.