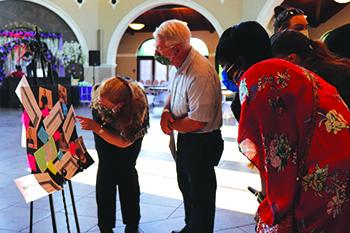 Solve the fictional mystery of Miss Veronica Falcone's disappearance during the first event of the Sunset Series on Friday, June 17, at the Cape Fear Botanical Garden.
On August 26, 1947, Miss Falcone's motorcycle was found crashed at the bottom of the river. Police found that a brake cable was deliberately cut, rendering the brakes useless.
There are five suspects who may be responsible for her death. Guests are invited to crack the cold case — and they can bring their dogs to help sniff out the killer.
The fictitious murder occurred in 1947, but attendees can use modern technology to gather clues and investigate the case.
The guest detectives will be able to scan a QR code to submit their findings online and receive instructions for the next phase of the investigation.
Prerecorded witness statements will be available for guests to view and use in solving the case.
The 1940s-themed event features music from the era playing throughout the garden. Guests should dress to impress because there will be a contest for the best throwback styles from that period in fashion.
Local dance instructor Molly Hamelin will teach guests how to get down with the lindy hop and jitterbug during swing dance lessons.
"We also got our hands on a 1949 Ford that will be a selfie spot, parked in the garden for visitors to take pictures with," said Meghan Woolbright, Cape Fear Botanical Garden marketing coordinator.
To keep guest detectives from getting hungry on the job, the Jaz-N-Soul food truck will be on-site. Other vendors will be announced closer to the event.
This marks the third year for the Sunset Series, a public event and fundraiser for the garden.
Additional murder mystery events will be held on July 15 and August 19 from 5:30 to 9 p.m.
Dogs are allowed for the June 17 event only, but must be on a non-retractable leash. Guests should plan to pick up after their pets.
The event is free for Cape Fear Botanical Garden members and $10 plus tax for non-members. Masks are not required this year.
Visit www.capefearbg.org/event/the-sunset-series to learn more.