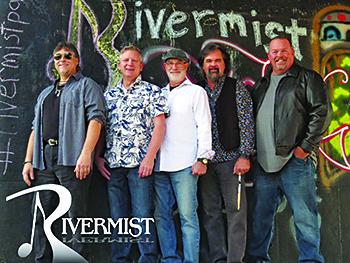 Voted Fayetteville and Fort Bragg's "Best Band" six years in a row, Rivermist is headed to Gates Four Country Club on Friday, July 1.
As part of the Gates Four Summer Concert Series and in partnership with Fayetteville Dinner Theater, the show begins at 7:30 p.m., with gates opening at 5 p.m.
Music-lovers and those in search of a great time need only look for the easy-to-find pavilion outside the country club to take part in the free, family-friendly event.
The series began last year as a ticketed event with five shows. Now open to the public with six performances scheduled, the concert series takes place every first Friday and features some of the finest entertainment in the Sandhills.
While people might not be used to the words "free and public," in association with a country club, Greg Adair, band member and spokesperson for Rivermist, assured Up & Coming Weekly it is indeed an event for everyone.
"Bring your dancing shoes," Adair joked. "This is open to everybody. People should remember to bring a chair, get some food, drink and get ready for some great music."
While no outside food or drinks are permitted, the event will have plenty of both available for purchase and liquor provided by Healy Wholesale Co. Inc.
Showcasing the talents of the Throwback Collaboration Band in April, the event headliners for May and June, Heart Breakers — a Heart cover band native to North Carolina, and Mostley Crue, a cover band from Raleigh, will rock the Gates Four stage later in the summer due to weather cancellations.
A lifelong musician and Fayetteville native, Adair's journey to the spotlight started in 2014. Originally in another band with a friend who fell ill with cancer, Adair formed a group to help fundraise for treatments and medical care.
After his friend's tragic passing later that year, the group remained but felt a name change was necessary out of respect. From there, Rivermist was born and has been rocking out ever since.
Transitioning to the role of a full-time musician in 2019, Adair expressed no regret and genuinely loves what he does. As the drummer, vocalist and band owner of Rivermist, Adair wears many hats, but they all fit comfortably.
"I love the exhilarating crowds," he explained. "I love seeing kids dance and freely enjoy themselves. There's nothing like seeing a kid enjoy music. They're so honest and precious, as adults should be."
After experiencing a bit of a slow-down as cities across the United States hunkered down to stop the spread of COVID-19, Adair is glad to be back to business as usual.
"We played about 65 shows in 2019," Adair reflected. "That dropped down to around 18 in 2020, and now we're scheduled for at least 70 this year. We still have 42 shows left this year."
Despite the obvious pride in his band and their success over the years, Adair remains grateful, giving all thanks and appreciation to the band's fans.
"We're humble," he said. "We have over 7,000 followers, people love to come to see us, and we genuinely love them too. There's no little man syndrome in this band, no divas or anything like that. Our families love each other, and we get along great. It's the most fun you can have in music."
Known for their high-energy shows often tagged as #rivermistparty on social media, Adair maintained, "Ain't no party like a Rivermist Party cause a Rivermist Party Don't Stop."
"We are a super energetic bunch," Adair shared, laughing. "We do it all. For the last show we had downtown, we had our guys walk through the crowds, wearing their instruments, and you couldn't even see them. Everybody was singing and moving; this band has just an abundance of personality. We get the crowd to participate and don't hold our heads down. We joke with each other and the crowd. It's just a fun time, and that's what it's about."
Being from Fayetteville, Adair feels a particular joy in playing for people who know the band and follow their journey. He sees music and the band's position up on stage as a charge to spread joy and be a light to those in the audience.
"We'll play about five to seven minutes at the beginning of each show and let the crowd know our goal is to take them away from anything bad lingering in their lives — we're there to make them happy. The crowd feeds off that. It's electric. To be on stage and see 5,000 to 6,000 people singing and dancing is definitely why we do it. There's nothing like seeing people have a great time."
Playing a variety of dance and pop music, Adair and his band mates: Allen Pier (keyboard, lead and background vocals), Rick Starling (percussion, keyboard, lead and background vocals), Tony Harrison (bass) and Cliff Bender (lead guitarist), play a little something that everybody can groove to. Rivermist covers songs from the Eagles to Bruno Mars and Alice In Chains to Travis Tritt.
"We try to vary the shows, so there's no crossover with these events," Adair explained. "There's something for everybody; we throw everybody a bone. 'If you leave here tonight and haven't heard anything you like — then you might not like music.'" He often jokes with the crowd.
The concert series is an opportunity for people to be led and gathered under the ruling spirit of summertime. Just a moment in the busy, bustling week, where parents, home from work, can round up their kids and head to a place with no schedules, no worries and no agendas.
Greg Adair, for one, is excited to see them there.
Gates Four is located at 6775 Irongate Dr. in Fayetteville.
The event is free and open to the public. Information about VIP tickets can be found at https://www.fayettevilledinnertheatre.com/.
For updates and information about upcoming shows and music, visit the Rivermist website at http://www.rivermistband.com/.