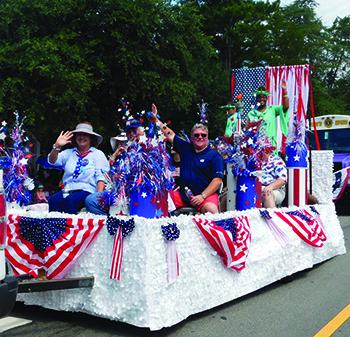 Join the city of Hope Mills as they celebrate the Fourth of July in true patriotic fashion as they host their Independence Day Celebration.
One of the year's largest events, the small town outside of Fayetteville fully embraces the nostalgia and summer magic that makes Independence Day so great.
The first celebration of its kind since 2019, Hope Mills is excited to finally bring people back together under a banner of red, white and blue on Saturday, July 2. The festivities kick off at 4 p.m. with a parade, complete with the festive floats, starting at Hope Mills Middle School and ending at Rockfish Elementary.
Hope Mills Municipal Park celebration will begin at 5 p.m. to keep things moving.
The festivities include a wide variety of children's activities, music and food for everyone in attendance to enjoy.
"We want to capture everybody," said Assistant Director of Hope Mills Parks and Recreation, Meghan Hawkins Freeman. "I want this event to be a relaxing time for people, and I hope people are excited to come."
Guests can look forward to about 20 food trucks offering a carousel of cuisine for purchase and beer provided by Dirtbag Ales.
Imagine Circus will provide stilt walkers and face painting for the family-friendly event. Zoo Life will have an array of exotic animals in tow, including a baby kangaroo, alpacas, and a kinkajou, just to name a few.
Party band 80s Unleashed will rock the house well into the night, and fireworks provided by Pyro Shows East Coast will end the show in a fiery finale around 9 p.m.
Freeman is especially happy to see the return of such festivities in the town of Hope Mills.
"This is the first Independence Day celebration we've had since July 2019, and we want people to come out and spend time with their families and neighbors. There won't be any vendors — it's just a time to come hang out, eat dinner, listen to music and watch fireworks," she said.
The rain or shine event won't be rescheduled, but in the case of inclement weather, people can enjoy the fireworks display at a different event. The Parks and Recreation Department encourages those who come to bring their chairs and blankets, but no outside alcohol is allowed.
Mostly, Freeman hopes people bring a sense of pride and respect for the holiday and what it's all about.
"Right now, with everything going on, it's nice to see people coming together and really standing behind the flag. I feel like we've lost that recently. It's so important to honor those who serve, and we want to provide a safe outlet for people to enjoy themselves, be thankful, spend time with their families and be proud to be an American."
This event is free and open to the public. The parade begins at Hope Mills Middle School, at 4975 Cameron Rd. in Hope Mills. Hope Mills Municipal Park is located at 5766 Rockfish Rd.
For more information, visit the town's webpage at https://townofhopemills.com/349/Independence-Day-Celebration