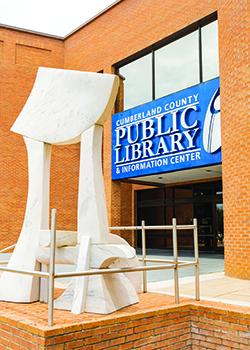 With temperatures and prices soaring this summer season — families across Cumberland County are looking for ways to beat the heat without emptying their wallets.
Parents looking for endless hours of entertainment in a safe, air-conditioned environment need look no further than their local library.
A part of the American landscape since the mid-18th century, libraries are as familiar in the scenery of everyday life as grocery stores, schools and churches. It's rare to meet someone who's never set foot in one.
That said, as the needs of the community shift and technologies become ever more advanced, the 21st-Century library offers a whole lot more than books.
Cumberland County Libraries is determined to meet those ever-evolving demands with thoughtful action, varied programming and an eye toward the future.
As the fifth-largest county in North Carolina by population, the library system of Cumberland County has developed a space that offers something for just about everyone.
Though it's far more likely to see a phone in the average passerby's hand than a book, Faith Philips, director of Cumberland County Public Library, feels the value of a thriving library is just as relevant today as it's ever been.
"Our library is a place for everyone to come and discover and explore," Phillips explained. "We want them to develop their interests and renew their passions. Be it knitting or STEM; we want people to come and connect.
We have a wide variety of programs for everyone in the community, and we want to offer them dynamic experiences."
With that in mind, the library offers a vibrant summer programming schedule that serves not only young children but teens, adults and seniors.
Right now, all age groups are encouraged to participate in the summer reading program, "Oceans of Possibility," for an opportunity to play games and win prizes.
Little ones in the community can also look forward to regularly scheduled story times across all eight branches, a visit from the North Carolina Aquarium and a presentation by Didgeridoo Down Under, to name just a few.
As teens become increasingly dependent on their phones, Cumberland County Library aims to address the needs of that demographic with programs that speak to their interests.
"We're really evaluating services for our teens," Phillips said. "After reviewing a community needs assessment in 2020, we found a growth opportunity in expanding our teen programs."
There are several book, gaming, special interest and culture clubs that meet where teens can make connections among like-minded peers.
Adults can also take advantage of all the library has to offer. There are meetings for crafters, readers, writers and even a Job Search Boot Camp, which helps with resume writing and interview skill throughout the year.
The library also keeps the whole family in mind with programs that invite togetherness and quality time well-spent. Movie nights and a family camping skills program are just a few of the events to jot down on the family calendar.
In addition to all of the exciting plans in place, the library has its thoughts firmly on the future as well.
"I'm excited to talk about our grant," Philips told Up & Coming Weekly. "It's a grant to improve our capacity for programming and spaces. Over the next two years, we'll also be transforming many of the campuses, particularly here at headquarters. We'll focus on more interactive spaces such as light walls and bring in 3-D printers, laser cutters and a creation station for content creators. We're just so excited about all the cool and innovative things to come."
Phillips, who's been the library director for a little over a year, is incredibly passionate about serving the community through this role and empowering its citizens to become whoever they want to be and have the ability to do whatever it is they want to do.
"I want to give back to the community through the library. We want to have safe places for people to connect, renew and explore. Serving the community where I live means a lot to me, and we're so lucky to have such a great system in place."
In her role as director, Philips is also very committed to meeting people of the community "where they are." The library has a dedicated community engagement division and mobile outreach services for homebound customers who can't make it to the library. Even those in Godwin, a town furthest from the library and its services in Cumberland County, will have access to a library locker in their town hall which will allow people of the community to check out and return books without having to travel too far.
As the digital landscape changes, making internet resources available and useful to as many citizens as possible is another role and responsibility the library has taken on.
"One thing that COVID has shown us is the digital inequities in our community. A person can check out a laptop or hotspot, but if they don't have the confidence to navigate that ecosystem — those tools are useless. Our Digital Navigator Team helps with digital literacy to promote digital equity."
With branches in Fayetteville, Spring Lake and Hope Mills, the library is a fabulous resource for entertainment, self-improvement, and networking. It's one of the few spaces left where you can walk in with nothing and leave with the world — just don't forget the library card.
To learn more about programs and events, visit the library website at https://www.cumberlandcountync.gov/departments/library-group/library.