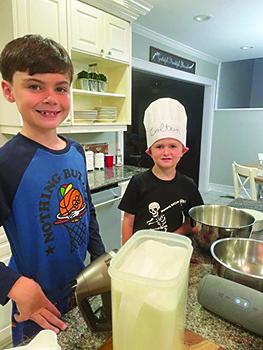 The fourth annual Lanning's Lemonade and Colton's Cookies fund-raiser is gearing up to be the biggest and best yet for the two youngsters whose mission in life is to help other children.
The two young entrepreneurs will hold their annual Lanning's Lemonade and Colton's Cookies fundraiser on Saturday, Aug. 20 from 11 a.m.
until 3 p.m. at the entrance to VanStory Hills.
Brothers Colton Walters, 8, and Lanning Kistler, 9, are raising money for their favorite charity: the Child Advocacy Center of Fayetteville. The Center provides counseling and support services for abused children.
Money raised before went to Missions of Hope International, which builds schools in Africa, and to the Boys & Girls Home of North Carolina.
Lanning started the fundraiser five years ago with a lemonade stand in his front yard. He decided to raise money for a good cause, and dad was all for it. Colton and his chewy M&M cookies joined the cause when the Kistlers became a blended family.
In the last several years, the boys decided to make the Child Advocacy Center the charity of their choice. Although COVID-19 halted the event in 2020, the boys in 2021 raised $2,575 for the Child Advocacy Center.
This year, the boys — with the help of mom and dad — went full throttle. They acquired sponsorships to raise even more money. Sponsors include Firehouse Subs, City Center Gallery and Books, The UPS Store, Maiden and Monsters Professional Face-Painting Services, Meraki Creative Services, and Sen. Kirk deViere and his wife, Jenny. More sponsors may be on the horizon.
The savvy fundraisers also used social media to earn more. They opened an online donation portal on Facebook, and as of mid-August earned $285.
It doesn't stop there.
"I came up with the idea to sell some of our original artwork during the fundraiser," Colton said. "I love to draw. So, hopefully, we can make more money for the Child Advocacy Center."
And Lanning also turned up the heat. He added a special ingredient to his lemonade.
"We decided to change our recipe a little bit this year, and it's going to taste great," Lanning said. "I can't give out the secrets, though."
But the highlight of this year's event — other than Lanning's lemonade and Colton's cookies — will be a cornhole tournament that starts at 1 p.m. Teams consist of two people, and there's a $75 registration fee. First place winners get $200, second place earns $100.
John Kistler said they researched fundraising. They learned most of the money from such activities usually comes from sponsorships.
"In the past, we have relied solely on individual community support and sales on the day of the event. We think this will really help to increase the amount of money that can be raised," John Kistler said in an email to Up & Coming Weekly.
Kistler said the annual fundraising event is a way to get the boys involved in their community.
And, according to mom Jennifer, all the activities and preparations surrounding the event "brought us together as a blended family."
"We will stay up really late on Friday night to make the lemonade and cookies," said Colton.
"I hope a lot of people will come out on Saturday," Lanning added.