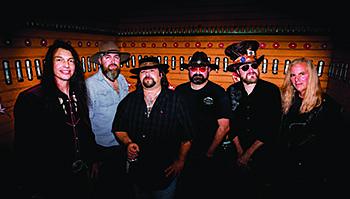 Searching for an authentic 1970s southern rock and roll experience?
Well, the search ends at the Gates Four Golf and Country Club in Fayetteville on Sept. 2 between 6 and 10 p.m. when the "ultimate" Lynyrd Skynyrd tribute band "Tuesday's Gone" will perform.
"We're very meticulous [and passionate about] trying to really replicate, specifically, the 1970s era of Lynyrd Skynyrd," said lead singer Ryan King.
"There's just no way to really do that using at least a lot of modern technologies. In other words, you're not going to sound like Lynyrd Skynyrd if you go out and buy a Jackson [heavy metal] guitar and run it through some kind of a digital processor," King said with a chuckle.
Having chosen the second song on Lynyrd Skynyrd's 1973 debut album for their name, "Tuesday's Gone" is the country's best Lynyrd Skynyrd tribute band. And that's not simply locally. The boys have traveled the better part of the United States, replicating, to the best of their abilities, an era of music that is simply vanishing.
"Tuesday's Gone" formed in 2005 after King and original guitarists John Pereksta and TR Gwynne crossed the stage one night at an open-mic in Raleigh.
King had been reluctant to perform Lynyrd Skynyrd material, but the level of dedication he witnessed that night changed his mind.
The powerful musical connection that the guys displayed that night really took me by surprise. It sounded too good to pass up, King said.
As flawless as "Tuesday's Gone" make Lynyrd Skynyrd's brand of 1970s southern rock and roll appear, there is a lot of behind-the-scenes planning that goes in to achieving that success.
"We've got three guitar players, and they use vintage guitars, like 60s models, Stratocasters and Les Pauls. [We use] Fender combo amps. These are old tube driven Fender Deluxe and Twins [amps]. One of my guys has got a Marshal half-stack . . . that is custom made for him," King said.
These vintage amplifiers consist of what could be considered antique technology by today's standard. Since the invention of "Solid State" components, i.e., microchips, developed in the late 1960s and early 1970s, the vacuum tubes and related innards that give these old amps their mojo was replaced in favor of newer, more reliable and shock resistant materials. The trade-off for a lighter and more durable amplifier came at the cost of tone.
"A clean sound with a tube amp has a warmth that is not really possible to achieve on a solid state amp," music writer Pete Briley said. "Tubes make an amp far more responsive to playing. [A guitarist can] play gently and have a clean tone. But then accent a note by playing slightly harder and have that note distorted."
"Tone is very, very important," King said. "Nobody wants to hear Lynyrd Skynyrd done Metallica style, or, at least, not our crowd. Not that we have any issues with Metallica. We love those guys, too. But we want to be true to the original [1970s Lynyrd Skynyrd sound]."
Lynyrd Skynyrd's chartered touring airplane ran out of fuel and crashed in to a Mississippi swamp in 1977. Of the 26 people aboard, six perished, including principal song-writer and lead singer Ronnie Van Zant. Over the years, even though Lynyrd Skynyrd has reformed a multitude of times, the band never again found the level of success before the tragedy, leaving Lynyrd Skynyrd fans in somewhat of a lurch.
"There's nowhere on the planet that you're not going to find [Lynyrd Skynyrd fans to come out]," King said.
Since the pandemic ended and live music returned, "Tuesday's Gone" has become laser-focused on spreading the gospel of Lynyrd Skynyrd to parts yet unknown.
"We are right in the middle of acquiring another tour bus. And once we do that, the objective is to get this thing out to the west coast, and maybe even hit Canada," King said.
However, plans for upcoming shows don't simply stop at North American shores. "Tuesday's Gone" wants to go to Europe, where they can deliver that authentic sound to a continent starved for live American music, all while fulfilling their obligation to the original Lynyrd Skynyrd.
"Most of [my musician friends] have been [to Europe] and toured at least once," King said. "[And], especially, when it comes to southern rock and rock, when you go over there, you're like the Beatles, because they can't replicate it."
"Tuesday's Gone" has been recognized by Lynyrd Skynyrd, and the fellas have formed relationships with some of the original members, including original drummer Artemis Pile, who famously left the scene of the plane crash and waded through black swamp water before finding help at a nearby farmhouse. In fact, Lynyrd Skynyrd gifted one of Ronnie Van Zant's personal hats to Mr. Ryan King.
"Tuesday's Gone" is being brought to Fayetteville by the "Gates Four Summer Concert Series." This event will be at the Gates Four Golf and Country Club Sept. 2 from 6 to 10 p.m. The concert is free.
Special guest, local singer-songwriter Daniel Cross, will open the show with an acoustic guitar.
"[The Summer Concert Series] started last year," said Greg Adair, who is a promoter of the "Gates Four Summer Concert Series."
"We did five shows last year during the summer, and we added a show this year and picked up sponsorship to make it free for everybody," he added.
Gates Four Golf and Country Club is located at 6775 Irongate Drive in Fayetteville on the south-western side of town, off of Lakewood Drive, in the Jack Britt school district. Gates Four Golf and Country Club is a gated community. When you show up, check in at the security gate. The stage will be set up behind the clubhouse.
It's worth noting that this show will be the next to last of the 2022 "Gates Four Summer Concert Series.
Up next is Heartbreaker on Oct. 7. To find out more about the "Gates Four Summer Concert Series," please visit www.GatesFour.com.
For more information about "Tuesday's Gone," please visit the band's personal website at www.TuesdaysGoneBand.com.
So, why not come on down and check out that 1970s sound?