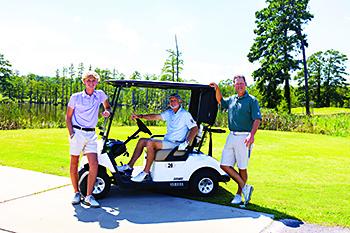 Before Brian Dreier worries about defending his title in the Cumberland County Golf Championship in October, he has to be the best player in his own family.
Dreier won the CCGC for the second time at Gates Four Golf & Country Club last year with a 54-hole score of even par 216. Meanwhile, his son, 16-year-old Sutton, won the junior division, and his father-in-law, Gary Robinson, an eight-time CCGC champion, tied for sixth in the championship division.
"It's awesome to see our family do so well," Robinson said. "We've been very blessed in our family to be so successful. I'm very proud of everybody."
Recently, Robinson won the club championship at King's Grant, a course he co-owns, with Sutton finishing second and Brian in third place. It marked the first time Sutton had beaten his father in golf.
"We kept it all in the family — win, place and show," Brian Dreier said. "I'm proud of Sutton's progression. He's maturing and his game is improving across the board."
Since Sutton turned 16, he is eligible to play in the championship division and he will compete against his father and grandfather this year.
Dreier, who won the county match play title in the spring, held off another eight-time champion of the event, Billy West, to win last year by one stroke. Dreier said he was stressed out on the front nine in the final round, wondering how Sutton was playing.
"When I made the turn, I found out how he did and it actually relaxed me for the back nine," he said. "It kind of took some of the pressure away from me. To be able to share that with him was just amazing."
The 54th annual CCGC will be held Oct. 7-9 and will feature some changes. The most significant change will add handicap divisions for men and women. The tournament has always been a gross-score competition.
"We want to get more people involved in the Cumberland County Championship tournament itself," said Bill Bowman, tournament director and publisher of Up & Coming Weekly.
"We've had a lot of requests from people who want to play in the tournament, but because it's gross-score, they are hesitant to participate. They want to compete using their established handicaps."
Another major change in the tournament this year is King's Grant Golf Club will host the first round of the Championship on Oct. 7 instead of playing all three rounds at Gates Four Country Club. King's Grant also will host the opening Champions Reception and Pairings Party on Oct. 6 in the Phoenix Grill of their newly renovated Clubhouse.
"We're happy to have it," Robinson said. "We'd like to showcase what we've been doing. The greens will be similar in speed probably to Gates Four. The transition from one course to the other won't be a problem for anybody."
The improvements at King's Grant since Robinson and his partners bought the course include converting the greens to Bermuda grass, remodeling the clubhouse, adding a veranda and improving and changing the parking lot. King's Grant will present a different challenge to the players than Gates Four. "It's a little tighter there," Robinson said. "It definitely tests you. It's not long but you've got to be accurate."
Dreier is the former pro at King's Grant and has been a member there since 2003.
"I think King's Grant is more difficult of a golf course," he said. "It has a lot more trouble. You're not going to win it out here but you can certainly lose it with the way the back nine is set up with the water hazards."
West has won the CCGC title three times at King's Grant.
"I'm looking forward to being back out at King's Grant," he said. "I don't hit the ball very far, particularly as I get older, and King's Grant puts a little more premium on accuracy. Of course, Gary and Brian are comfortable out there. I'm sure they're looking to get a low round but I'm excited. I like when the courses rotate."
West and Robinson, who are tied for the most CCGC titles with eight each, will renew their battle to see if one of them can get to No. 9.
"I hope I get there quick," said Robinson, who will turn 64 the week after the tournament. "I feel like I'm running out of time. He [West] has a lot more opportunities but I have an opportunity this year. If I play well, I should be able to contend."
Robinson comes into the tournament in good form. He recently tied for third in the Carolinas Senior Amateur championship.
West, 48, marvels at Robinson who won his first CCGC title in 1982.
"I have so much respect for Gary and his game," he said. "To me, the most amazing thing about Gary is his ability to compete at the highest level as a senior player. He still hits the ball a very long way. I joke with Gary that I have two goals each year — for me to try and win and make sure he doesn't. It's a fun rivalry and we've become really good friends."
West is building quite a record of longevity in the tournament, too. He won his first title in 1994 and has missed the event only once since he turned 16. He had a chance to win last year, leading by one in the final round with four holes to go. But a pair of bogeys cost him coming in and he finished as runner-up.
"I've always said it's my favorite tournament," West said. "I star it on the calendar every year. What to me is neat about the tournament, it has sort of followed me through my life. I played in it when I was 16 and I remember how anxious and nervous I was to play with the older players I had looked up to for years."
"Now, I'm one of the senior statesmen of the championship division. It's come full circle. My best golf memories have come from playing in the Cumberland County Championship."
Other contenders for the title include Thomas Owen, who has two wins and four top-3 finishes since 2016, and Jack Keefe, who led after each of the first two rounds last year.
Bowman, who is in his fifth year of running the tournament, introduced the CCGC Youth Division for boys and girls last year, and he views it as the future of the tournament. It includes a division for middle school players, ages 12-14, and high school players, ages 15-18.
"We want to grow our youth participation so we can develop the CCGC champions of tomorrow," Bowman said. "By having multiple divisions, we're going to be able to nurture these young people and get them involved and acclimated to this level of competition."
Robinson is helping with the effort.
"I'm excited about the addition of the junior golf," he said. "I've tried to take on a role and get this thing off the ground so we can keep golf going in the county. I'm in touch with some of the coaches in the area, trying to get their kids to sign up and play."
West believes that several of the top junior players in the county could change the face of the competition.
"The players today are better than when I came through," he said. "When I was 16, I was hoping not to embarrass myself. But high school kids now are out there to win it and they're ready to win at a young age."
There also will be divisions for women, men's open, senior men and super seniors.
"It's the oldest continuous running golf tournament in North Carolina," Bowman said. "And, it's definitely the most prestigious one here in Cumberland County. We are proud to be hosting this great event on its 54th anniversary."
For entry details, go to cumberlandcountygolfclassic.com.