I'm one of those people who, based on no other evidence outside of my imagination, assumes I'll be pretty good at something the first time I try it.
I sit on my couch with a wry smile and watch as the people on my television build pools in their backyard, reupholster furniture or compete in triathlons. I think to myself: I could probably do that.
In my quest to try new things around our fair city, I've been looking for an opportunity to put this theory to the test.
I was recently taking a stroll around my Facebook neighborhood and came upon a local business I'd never seen before: Fahada Bellydance.
Oh, I could definitely do that, I foolishly thought to myself.
Her clean, minimalist website invited the user to "Discover Your Inner Dancer," and I, for reasons unclear, decided my inner dancer was in desperate need of discovery. Besides, I had a belly, right? How hard could it be?
Fueled by visions of Shakira and I dancing side by side on the global stage, I booked an intro class through Fahada's website and waited for greatness.
I showed up to my Tuesday night class around ten minutes early to give myself time to check out the space. Fahada's studio is inside Bloom Apothecary at the bottom of Macpherson House on Hay Street. The intimate space and small class size instantly made me feel safe.
Fahada, who has been teaching belly dancing for around five years, was immediately welcoming. I felt myself relax as she led us through an easy warm-up.
Next, I was gifted my very own hip scarf, and I can honestly say my heart lit up. I selected a deep blue scarf adorned with gold coins and intricate embroidery. The charms' musical jingle filled the little studio as I tied the scarf low on my hips, and in my head, I became Princess Jasmine from "Aladdin."
Spoiler alert: I am no Princess Jasmine.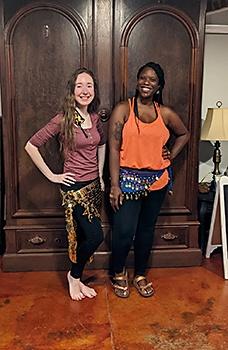 To say belly dancing is deceptively hard is an understatement. Everything I thought I knew about my hips, knees, and "abs," and how they all work together to make me move around gracefully, were thrown completely out the window.
Fahada teaches Raqs Sharqi, a modern Egyptian belly dance, and wow, what a workout. Belly dancing can burn anywhere from 300-400 calories in an hour-long session, so you definitely feel it. Working step by step through hip shimmies, snake arms, and hip pops that likely have a fancier name, Fahada was patient, encouraging, and honestly a great teacher. Figure eights, a technique I won't dare attempt to explain here, posed the greatest challenge for me during the hour-long class, but at no point did I feel frustrated. Fahada's gentle positivity only made me feel more motivated. This is a great class if you're the kind of person who needs one-on-one help in a low-pressure atmosphere when learning something new.
The exotic sounds of Baladi Traditional Egypt Rhythm by Mizan Project played quietly in the background, and for a full hour, I wasn't even in Fayetteville anymore.
As we worked through the moves, I felt really connected to my body and was surprised at the sweat I'd worked up. Sure, I wasn't quite the belly dancing prodigy I assumed I would be, but I was correct: I could do this.
The end of class was a spirited review of all the moves put together. I found myself smiling as I tried my best to mimic Fahada's more elegant gesticulations. One thing I did enjoy about the space was the absence of mirrors. Without an image to critique or feel embarrassed, I had to trust my body and Fahada's professional opinion of my progress. Honestly, it felt good to move around without the added pressure of noticing myself.
By the end of our cool-down, I'd completely abandoned the idea that belly dancing was a.) easy and b.) that I was somehow "good" at it. What I could focus on, however, was how great I felt.
I returned home, still wearing my hip scarf — I had certainly earned it, after all — and booked myself another session. I don't mind being one of those people who's really great at something the second time they try it.
Fahada's studio is open for Beginner Bellydance Classes on Tuesdays from 6:30 to 7:30 p.m. Sessions are $15 for a one-hour class. To book, visit fahadabellydance.com.
Editor's note: Up & Coming Weekly is sending our staff writer Ashley out and about in the local area to try new things. She will report on her experiences to help readers decide if they want to try the adventure, too.