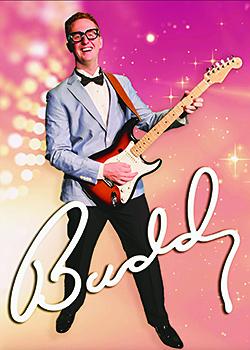 On a muggy Friday night at Cape Fear Regional Theatre a man stands on another man's bass while playing guitar. The crowd's energy is buzzing. They are up on their feet on occasion. They are clapping along.
They break out into a cheer. They are singing parts of songs back to the tall, slender guy in a suit with dark-colored framed glasses. These frames are almost as iconic as some of the songs. While this may sound like a rock'n'roll concert as opposed to a play, it's actually somewhere in between — shining with the best of both worlds.
"Buddy: The Buddy Holly Story" performances have begun at Cape Fear Regional Theatre. With it comes a lot of music, laughter, a few tears and a rip-roaring good time. For a minute, the audience may have forgotten just exactly where they were as they become enthralled in the story.
"Buddy: The Buddy Holly Story" covers the last 18 months of singer Buddy Holly's life. The guitar strumming, glasses-wearing Texan is played by Keaton Eckhoff.
Eckhoff embodies a stunning Buddy Holly — both his look and his voice being a great match for the rock'n'roll legend.
As Buddy Holly, Eckhoff often stole the show, as is only right when watching a play about Buddy Holly. His rendition of "That'll Be the Day" or "Everyday" is as close to hearing the real musician as one might get these days. Eckhoff seems like not just a talented actor but a talented musician, too.
The Crickets, played by Julian James, Cason Day and Bennett Petersen, were a great showcase of talent.
Each actor played their own instruments and bounced around on stage as if they were throwing a real concert. The banter between the actors provided great comedic relief and left you interested in the story the whole way through.
Another great addition to this play was Hipockets performed by Mikey LoBalsamo. LoBalsamo had the perfect voice for a radio host and was charismatic in all his scenes.
While most plays might take a downturn when straying away from a scene with the main character, LoBalsamo's quirky character was always welcomed by the audience. LoBalsamo himself is no stranger to the stage at CFRT and his personality carries well in just about any role he's played.
What is most impressive about this production is the use of all the live, real music and the extraordinary amount of instruments.
The stage is often littered with all sorts of different instruments and beautiful voices to fill the rest. Most of the actors in the play are both actors and musicians so the songs played to the audience are played right before their very eyes. The only recordings played are those the theater records with Eckhoff to help between transistions. The show tangos between a play and a concert.
While the story of the real Buddy Holly ends in a tragic way, the folks down at CFRT help bring it back around, leaving the audience feeling good as they leave.
At the end, the performers give what is like a mini-concert. And ultimately, on this night and probably all the other nights too, the audience cheered for an encore.
There are not many cons to running down and buying a ticket to this show. It was enjoyable. It had great, engaging moments of acting. It gave stunning musical performances. To purchase tickets visit www.cfrt.org or call the Box Office at 910-323-4233.
For this production, it seems Buddy Holly was right, it's so easy to fall in love.