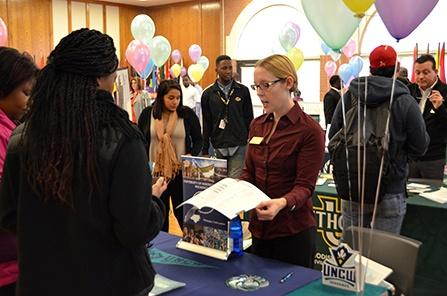 Fayetteville Technical Community College will host College Transfer Day on Oct. 27 from 10 a.m to 2 p.m. at the Tony Rand Student Center Multi-Purpose Room.
This year, FTCC anticipates representation from 46 public and private universities.
College Transfer Day serves as an avenue to promote the transferability of academic credits earned by community college students to public and private four-year colleges and universities.
Students can connect and have questions answered by university representatives on topics such as admissions requirements, programs of study, scholarship and internship opportunities and financial aid processes. The ability for students to connect with a multitude of educational representatives at the same time is a unique and helpful resource.
The process of transferring to another college is not identical to applying to college for the first time. While a student's high school transcript and SAT/ACT scores may be reviewed, these items typically take a back seat to the academic college transcript that a student has earned at the community college level. Community college students wishing to transfer to 4-year colleges should strive to achieve excellent grades in order to be competitive during the transfer process, as current academic college transcripts will be reviewed more rigorously than high school transcripts.
College Transfer Day is a great way for students to learn about each school's unique policies and deadlines and to make contacts, receive literature and ask questions.
Transfer students should be mindful of important university deadlines. Universities not only have deadlines that may vary from one school to another but also have specific policies for transfer students who are applying to professional programs.
The pandemic presented students and universities with many challenges, but the opportunity to visit the campuses of universities before deciding if a college is the right fit academically and emotionally is important. Students interested in transfer tours may reach out to FTCC's office of University Outreach for assistance.
The Office of University Outreach also offers many opportunities and programs that allow transfer students to receive a better understanding of the academic landscape involved with the transfer process, and FTCC's College Transfer Day is one of those opportunities. Transfer Thursdays are offered weekly at FTCC, allowing students to make an appointment to receive an evaluation of two universities of the student's choice. After evaluation of the current course work, the student is given additional advisement and, if desired, is registered.
At FTCC, we understand that better skills lead to better jobs with better pay. Helping students achieve their educational goals to prepare for a successful career is our top priority. Finding your way forward is easy, with FTCC.
College Transfer Day is a free event open to anyone wanting information about college transfer options. Questions may be directed to nelsonl@faytechcc.edu or by calling 910-678-8205.