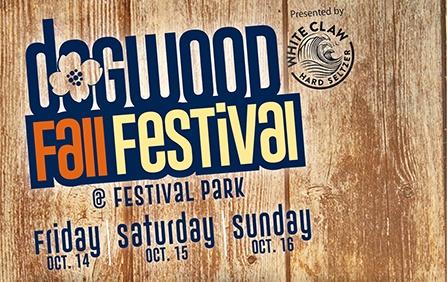 It is the time of year for the annual Dogwood Fall Festival, delivering fun and entertainment for all.
The Dogwood Festival is a non-profit, community-oriented organization dedicated to providing various family-focused activities held in historic downtown Fayetteville. The Festival aims to entertain the community, promote and sustain new and existing businesses, enhance a positive community image, and attract out-of-town tourists while sharing the cultural and recreational opportunities available in the Fayetteville area.
On Friday, Oct. 14, the Dogwood Fall Festival will be from 6 to 10 p.m. in Festival Park with hayrides, a KidZone, and food trucks.
Take a ride on a tractor pulled hayride and let the guides tell you and your family all about the history of the downtown district. This ride will delight the little ones without being too scary, while the older ones will be able to appreciate some spooky elements. The hayrides will run through the entire weekend. Pre-sale tickets are going for $5 while day-of tickets are selling at $7 or buy 4 or more it's $5 per ticket. Children two or younger ride for free.
Guests are welcome to come out to Festival Park between noon and 10 p.m. on Saturday, Oct. 15. The Promenade Fair opens at noon for those interested in taking a stroll down Festival Park Plaza to explore a variety of vendors and sponsors.
KidZone continues on Saturday from noon until 9 p.m. Hayrides will run from 2 to 10 p.m. The Battle of the Bands will go from 1 to 8 p.m. This year's line-up includes talented performers from around the Cape Fear area. The Dogwood Fall Festival's MC, Casey T. Cotton, will lead the performers as they compete for the opportunity to open for the 2023 Fayetteville Dogwood Festival headlining band(s). After the Battle of the Bands, stick around for the Dueling Piano Show with Blazin Keys Entertainment. This dueling piano showdown is free.
On Saturday, you can also grab your favorite costume and compete in the Dogwood Fall Festival's Costume Contest. Participants can sign up on the day of the event at the Costume Contest Tent (located in Festival Park - 335 Ray Avenue). The event will begin at 3 p.m. and it's free to participate.
The on-site Dogwood Fall Festival will run from 9:30 a.m. until 6 p.m. on Sunday, Oct. 16. On Sunday, the Promenade Fair and KidZone will run from noon until 6 p.m. Hayrides will be from 2 to 6 p.m.
If you or someone you know owns a hot set of wheels, be sure to check out the Dogwood Fall Festival Car, Motorcycle, and Truck Show, which begins at 9:30 a.m. This event welcomes all vehicles including, but not limited to, cars, motorcycles and trucks. This premier event includes the opportunity to win a variety of awards, music, fun, and of course, bragging rights if you win. Pre-registration will be available until Friday, Oct. 15 at 11:59 p.m. After that, vehicles will meet at the Festival Park Plaza, walk-ups are welcome, but space is limited, so don't wait to register. It's $15 for motorcycles to enter and $25 for cars and trucks to enter.
Participants may register in the following categories: Car/Truck- Antique (1900-1975); Classic (1976-2000); Modern (2001-present day), Motorcycle- General Entry.
One off-site event will happen at 6 p.m. on Sunday. The I Am Plush Plus Size Fashion Show will take place at the Moose Event Center located at 3740 Owen Drive. The show promotes body positivity and plus size fashion fabulousness. General admission tickets are $25 and VIP tickets are $50. Both can be purchased at Eventbrite.com. For more information about the fashion show call 910-823-7663.