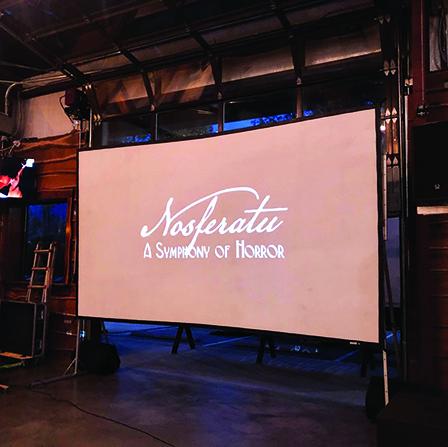 Cape Fear's Fayetteville Symphony Orchestra presents its symphony movie night featuring the film, "Nosferatu," on Saturday, Oct. 22, at 8 p.m. at Dirtbag Ales Brewery & Taproom in Hope Mills.
"Nosferatu is our symphony night movie and the purpose of this event is to provide a free event to our community to start off the season," said Meghan Woolbright, marketing and office manager at the Fayetteville Symphony Orchestra.
"There is also going to be a small ensemble involved with about 8 to 10 performers that bring a lot of punch."
"The silent film will be playing and we will soundtrack the film," said Anna Meyer, interim executive director of the Fayetteville Symphony Orchestra. "The arrangement is by a composer named Peter B. Kay."
She added, "We did this last year, it was very successful and people really enjoyed seeing the film with the live music that accompanied it."
The movie, "Nosferatu," is a 1922 German silent film based on Bram Stoker's Dracula. It entails a vampire who preys on the wife of his estate agent and brings the plague to their town.
"It is kind of a cult classic and people recognize it," said Meyer. "We are starting around 8 p.m. and the movie will last about an hour."
Meyer added that this is a casual event and individuals may come with friends and family, enjoy food and drinks and connect with the community.
The idea for the event came from Fayetteville Symphony's music director, Stefan Sanders, who had done a similar project for an orchestra that he conducts in Austin, Texas.
"He was aware of the arrangements for the films so typically we will select a silent film that has a good arrangement for symphony," said Meyer. "Nosferatu is a clear choice because it is a popular film, it is recognizable and goes along with the theme of Halloween."
Founded in 1956, the Fayetteville Symphony Orchestra's mission is to educate, entertain and inspire the citizens of Fayetteville as a leading musical resource. The group performs eight concerts at Fayetteville State University and Methodist University during the concert season. The professional orchestra also performs educational concerts for schools and the community, offers after-school strings and summer music programs and has its own Fayetteville Symphony Youth Orchestra. Partnerships include collaborative performances with Cumberland Choral Arts, Cape Fear Regional Theatre, St. John's Episcopal Church and the city's annual Independence Day concert with fireworks.
The event is free and open to all ages. Food, drinks and alcoholic beverages will be for sale. For more information, call 910-433-4690 or visit www.fayettevillesymphony.org.