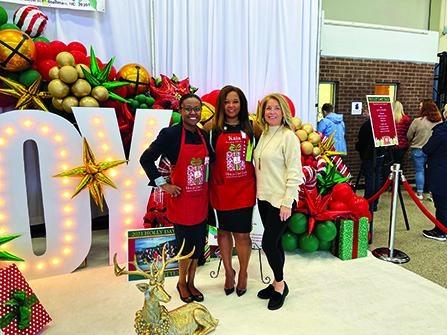 The season for giving is approaching and people can help the women of the Junior League of Fayetteville do that at the 55th Annual Holly Day Fair Nov. 3 to 6 at the Crown Expo Center. According to the organization, it is the largest holiday gift and craft show in eastern North Carolina. The event draws an average of 22,000 attendees and over 150 vendors.
"Show-goers have an extensive selection of unique handcrafted and manufactured products to select from including the best in holiday decorations, handmade crafts, stylish jewelry and clothes, children's toys, specialty food items and much more," said Juelle McDonald, Holly Day Fair Chair 2022 on the Junior League of Fayetteville's website.
This year's theme is Make Spirits Bright. She noted that over 50 years ago, a group of local women came together to fundraise by hosting a small crafts fair at St. John's Episcopal Church in Fayetteville.
McDonald said a portion of the revenue is given back to the local community through the Junior League of Fayetteville CAP grants, the Junior League of Fayetteville Scholarship fund and other community initiatives. McDonald said it is the organization's sole fundraiser, but it is big.
"It's how we raise our money. It's how we're able to help our community and give scholarships and really be a change when it comes to financial aspects and support different community endeavors," she said.
The funds they distribute to different organizations come from the fair's booth rental fees, sponsorships and tickets to the fair.
They decided not to do the show in 2020 due to the pandemic, but had it last year and received a lot of community support.
What's New?
McDonald said a new item to the show is Cookies with the Clauses.
"Mr. and Mrs. Claus are going to be there," she said. "They're going to read a book and it's going to be an activity for the children. We are excited to incorporate that into the show this year. It'll be the first time we've ever done anything like it."
"We're thankful for our community. It's because of our community we're able to do this. For 55 years our community has come through. Our community has supported us," McDonald said. "We couldn't be more thankful."
The League's Mission
"The Junior League of Fayetteville is an organization of women dedicated to serving our community, being volunteers for our community and being that active voice and change whether that's with work that we do with our CAP grants or the work that we do through the Holly Day Fair," McDonald said. "We're just an organization of women devoted to actively ensuring that our community is a better place."
Their mission is to advance women's leadership for meaningful community impact through volunteer action, collaboration and training. Their values include diversity, collaboration, community, empowerment, leadership, respect and service.