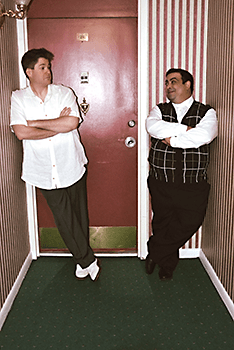 Watching Marc de la Concha and Jonathan Judge-Russo practice lines is like watching a one-two punch. A little different from the common ringside accompaniments — theirs is a match of wits, comedic lines and neurotic displays — and maybe some weird wheezing and ticks. All part of the contemporary comedy that is Neil Simon.
De la Concha and Judge-Russo are making rounds as Felix Unger and Oscar Madison in Cape Fear Regional Theatre's version of "The Odd Couple." And it will be the only theatre in the country where audiences can watch one of Neil Simon's plays currently.
"They put a pause on Neil Simon's works. We wrote to his widow and his estate about how beneficial it would be. They wrote back and said, 'Oh my goodness. We'd love to grant you permission to do the show.'" Ashley Owen, CFRT marketing director said.
The theatre's employees were delighted. The next decision was how to honor that permission with outstanding performances of the play.
Part of that equation, according to Director David Hemsley Caldwell, was De La Concha and Judge-Russo who were a shoe-in for the parts. Their banter and natural chemistry was undeniable.
"We read them together. It was just magic. It just falls into place. It just makes sense with these two gentlemen," Caldwell said.
For Judge-Russo, Oscar is a nice break from the types he's always been cast in TV — the murderer, the nonstop bad guy. "Yikes," he says as he recounts his normal casting. This makes de la Concha laugh.
De la Concha, on the other hand, is revisiting the role he played 11 years ago — the neurotic, clean-freak Felix. After finding himself on the end of a divorce, Felix finds himself in need of a home and finds a very odd placement with the laid-back, messy Oscar. This, of course, makes for some comedy.
"The banter between the two of them ... It's almost like watching a sporting event," Caldwell said. "If you just follow what you are given by Mr. Simon then you are three-fourths of the way there."
Judge-Russo agrees. For him, he says, you just have to get out of the play's way and "let it live." He says he tries to exist within it. While Judge-Russo and de la Concha have both been in productions at Cape Fear Regional Theatre, this is their first time working together.
"I'm having a great time under my N95 right now because of the level where Marc is at," Judge-Russo said. "He's so funny. If you are not matching it, if you are not volleying his serve, you will come unglued a bit."
This is lucky for both actors, who seem to be having a great time, as the production is about two-thirds just Oscar and Felix bantering back and forth. And the rhythm they strike is just as important as the jokes.
"The rhythm it counts on needs to be perfect for the jokes to land," Caldwell said. "There's a lot of playwrights that are not good at writing dialogue but [Simon] is. Rhythmically, the way he writes, he is a musician. It is note perfect. You owe it to him and his play to play it that way."
"The Odd Couple" will run until Nov. 13. For this production, this is a shorter run with only 11 performances. Tickets range from $15-28, depending on the night. Visit www.cfrt.org for more information.