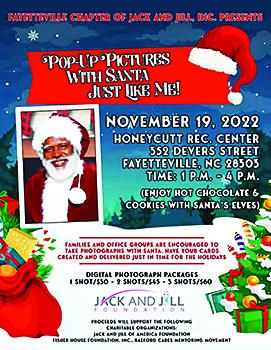 Santa and his elves are coming early this year, thanks to the Fayetteville chapter of the Jack and Jill of America Foundation.
The organization's second Pop-Up Pictures With Santa Just Like Me fundraising event will take place on Nov. 19 at Honeycutt Recreation Center from 1 to 4 p.m.
Big kids, little kids and believers of all ages are invited to enjoy hot cocoa and cookies with a few elves and have their picture taken with a Santa Claus of color before the holiday season gets fully underway. It's the perfect time to get a jump start on holiday cards while celebrating diversity.
A team will be ready to greet visitors upon arrival, available to answer questions about the organization and opportunities to get involved.
Proceeds from the event will benefit Fisher House Foundation Inc. and Raeford Cares Mentoring Movement. Additionally, P3 Weddings and Events will sponsor five families identified by Raeford Cares to have their photos taken.
Up & Coming Weekly spoke with Ericka Whitaker, foundation chair of the Fayetteville chapter of the Jack & Jill Foundation of America, about the event and its intended impact on the community.
"We just want to get a jump start on all the other Santas," Whitaker joked.
On a more serious note, Whitaker shared the foundation's hope to increase visibility and representation in the African American community for leaders and heroes that look like the children and families they serve.
"What we have historically seen is that children of color don't often see Santas that look like them," Whitaker explained. "We want to make sure our children are aware of their culture."
"The desire to promote images of positivity and success within the Black community is at the heart of the Jack & Jill Foundation of America's mission to "transform African American communities one child at a time."
Comprised mostly of African American mothers, the national organization represents over 242 chapters and 40,000 family members. Jack & Jill of America Foundation is dedicated to "stimulating children's growth and development through educational, cultural, civic, health, recreational, and social opportunities," particularly for African American children aged two to nineteen.
Established in 1938 by Black socialite and civic organizer Marion Stubbs Thomas, the Jack & Jill of America Foundation has spent the last eight decades cultivating leaders with a strong sense of duty and integrity, which led Whitaker to join the Fayetteville chapter seven years ago.
"I wanted my daughter to be involved in giving back to the community," Whitaker shared. "I wanted her to understand there are professionals that look just like her. I believe the Jack and Jill Foundation has a strong impact because we really invest in our children's education and leadership. This organization is another tool in our toolbox to develop her as an individual."
The Fayetteville chapter, which falls under the mid-Atlantic region, serves 23 members and families locally. The local chapter is involved in several programs within the community, like serving meals, partnering with local schools to provide needed resources, and volunteering with local food banks. The goal is to focus on and inspire children to become well-rounded individuals with a practical understanding of their culture.
While promoting positivity within the African American community, Whitaker emphasized that the Pop-Up Pictures With Santa Just Like Me event is for everyone.
"We aren't just inviting children of color," she clarified. "We want the entire community to come out if they can."
Digital photograph packages are priced as follows: one shot/$30, two shots/$45, and three shots/$60; only cash and Cashapp are accepted.
Honeycutt Recreation Center is located at 353 Devers St. in Fayetteville.
To learn more about the Jack & Jill Foundation of America, visit www.jackandjillfoundation.org/.