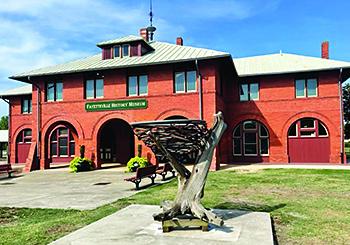 It's finally the perfect time of year to get outside. The beautiful North Carolina foliage acts as a colorful backdrop for families all over the Sandhills wanting to don their lightest jackets and enjoy weather that's beginning to lean toward crisp in the early morning and evenings. The only question is: what is there to do?
The Fayetteville History Museum has put together a "unique, self-serve, downtown history adventure" to satisfy anyone looking for something different to do outside this season. Throughout November, a map full of clues will lead big and little sleuths around downtown Fayetteville to discover its architecture and history with new eyes.
"It's a great way to use your brain power and your foot power to experience downtown," Heidi Bleazey, Historic Properties Coordinator, shared.
While the Fayetteville History Museum is known for its knowledgeable staff and informative guided tours, a scavenger hunt of this scope is new territory for the museum. The Downtown Cornerstone Scavenger Hunt is an opportunity to show just how fun history can be.
Participants can grab a guide from the Fayetteville History Museum Tuesday-Saturday during regular operating hours and begin their search for cornerstones embedded in the historical buildings around the city. A cornerstone is a stone that traditionally forms the base corner of a building, joining two walls. As many historic buildings in downtown Fayetteville date back over a century — participants can find these architectural gems in some of downtown's oldest structures.
Bleazey is especially excited for people to get out and about in Fayetteville to see "nuggets of history" for themselves.
"I love that the hunt is taking people beyond the core of Hay Street," she explained. "We're taking them off the dine-shop-eat path and inviting them to stand right where people stood over 100 years ago. These buildings we go by on our daily business are what remains of those who wanted to see change and bring change to this area."
The self-guided scavenger hunt can be completed all at once or broken up over several days throughout the month. Once all items have been located, participants can return their completed sheets to the history museum for a prize.
Although the Downtown Cornerstone Historical Scavenger Hunt is designed for history lovers aged six to 96, Bleazey believes it's a great outing for anyone looking to experience history up close.
"It's a perfect hunt for anyone who wants to experience downtown and get a taste of our local history," she said.
The hunt is ideal for family outings, team building, or a newly stationed soldier wanting to learn more about the area. Participating also creates an opportunity to discover new shops and restaurants in the bustling downtown area.
Ultimately, through this event, Bleazey hopes people develop an appetite for Fayetteville history, a topic she feels very passionate about and is proud to share with others.
"From its roots, Fayetteville has been a community that doesn't always follow textbook history. The more you look, you see people and events that don't follow standard American history. I love being a go-between for people from the past and people of the [present] community."
The Downtown Cornerstone Scavenger Hunt is free and open to the public. Participants can pick up their blank Scavenger Hunt guide sheets Tuesday-Saturday at 325 Franklin St. in downtown Fayetteville.