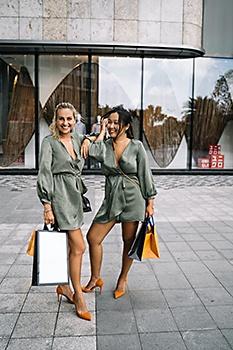 Small Business Saturday is a national initiative started in 2010 by American Express. It is observed on the Saturday after Thanksgiving and is designed to highlight small businesses.
This shopping guide is not exhaustive, so, be sure to venture out and check in with all of your local favorites to see if they are offering specials. All offers listed are subject to change without notice and are subject to supply availability. For any additional details please reach out to the individual businesses.
A Bit of Carolina
This specialty gift shop carries everything North Carolina such as tees, food, souvenirs, gift baskets and more! This Best of Fayetteville winner a selection of Fayetteville-specific items. Simply Southern Large Totes will be on sale for $40, down from the original price of $79.95. Simply Southern Accessories will be buy one, get one free, while supplies last. Lastly, they will be offering 15% off on custom gift baskets and gift boxes. A Bit of Carolina is located in downtown Fayetteville at 306 Hay Street.
Apple Crate Natural Market
Apple Crate Natural Market will offer free frankincense and mir incense with every $50 purchase. They will also offer double points on all body care, essential oilers and gift items. This deal is for Black Friday and Small Business Saturday. This store focuses on nutrition supplements, vitamins and specialty and organic foods. They have two locations, 2711 Raeford Road, open Monday through Saturday from 9 a.m. – 8 p.m., and Sunday from 10 a.m. – 6 p.m. The other location, located off 5430 Camden Road Suite #103 is open Monday through Saturday from 9 a.m. – 6 p.m.
Baker Motorsports
Baker Motorsports is a family owned and operated powersports store with the same passion as their customers. If they are not working they are out riding ourselves. This year, they have sales going on for Friday and Saturday. Zero freight or set up fees on all units, 10% off all parts, 15% off all audio parts, and everyone has a chance to win a $500 gift card by going to mybakerms.com. This motorbike shop is located at 3700 Sycamore Dairy Road.
Blissful Alchemist
Blissful Alchemist is a brand new, woman-owned boutique, salon and yoga shop. Their modern, whimsical boutique features clothes, books, crystals, jewelry and more. They also offer Spray Tans, Hair & Makeup, Blowouts, Lashes, Waxing, Teeth Whitening, Nails, Pedicures, Facials, Botox, Injections, Brows, Reiki, Life Coaching, Acupuncture, Massage, Meditation, Past Life Regression, Red Light Therapy, Herbs, Oils, and more. In their store, they will be offering a buy one, get one 50% off for clothing. The rest of the boutique will be 15% off. They are located at 414 Ray Avenue.
Bragg Unique Boutique
The Bragg Unique Boutique Gift Shop will be offering 25% off all wholesale items, as well as sales on select consignor items such as 18% off Engraved Bullet Pens. They are also offering a chance to win a $10 gift card for every $30 you spend. The BUB is part of the Association of Bragg Spouses and is supported by ABS Volunteers.​ They sell gifts, handmade items and specialty items. All profits go directly to the ABS Scholarship and Welfare Funds. They are open Tuesdays and Thursdays. Their website, bragg-unique-boutique.square.site is also available 24/7. They are located on Fort Bragg at Bldg 2-2211 Woodruff Street.
CPR Cell Phone Repair
This cell phone repair shop handles all electronic device repairs for clients throughout Cumberland County. This busy shop off Raeford Road currently holds a five-star rating on Google and specializes in a wide variety of digital device repairs, including smartphones, tablets, computers, laptops, game consoles, camera MP3 players and more. For Black Friday, they will be offering $15 off any tempered glass protector and $20 off any cell phone cases – including Otterboxes. This Best of Fayetteville winner is located at 926 Brighton Road.
Curate Essentials
Curate Essentials is an herbal apothecary and boutique selling vintage and handmade goods located in the heart of Fayetteville's historic Haymount Hill. They believe in taking a holistic approach to health and wellness. They create all-natural products to help you live in balance with your mind, body, and spirit. They will be selling a special holiday box for $60. This box will include seasonal items like a candy cane crush sugar scrub, cranberry goat milk soap, honey oatmeal moisturizers, a holiday soy wax candle, and a handmade ornament. The shop will also be selling festive and seasonal lattes and pastries. Curate Essentials is located at 1302 Fort Bragg Road and will be open from 8 a.m. to 6 p.m.
Dragon's Lair Comics
This local comic book store will be offering buy two, get one free select comic books. There will also be $1 back issues available and the Spider-Man wall will be 25% off. For everyone who drops into the store on Saturday, they will get a free new comic. Dragon's Lair Comics has been a part of the Fayetteville community for over 40 years. This store is open Monday through Sunday, typically from 11 a.m. – 5 p.m. and is located at 6243 Yadkin Road.
Fit4Life Health Clubs
This sports performance and wellnes center offer professional and trained staff to help you along your fitness journey, no matter how much support you need. At Fit4Life, you aren't joining a gym; you are gaining a community. This Best of Fayetteville winner is offering a sale that won't get any sweeter. Their monthly package will be on sale for $10 a month or pay just $349 for the entire year. This membership includes 24/7/365 access, a free kids zone, free group classes, and one free session with a personal trainer. They are located in multiple places in Fayetteville. To learn more about this deal, call (910) 568-5982.
Lily Kat's Consignment Boutique
This local boutique will be offering a two-day small business sale. They will be offering 25% off storewide. There will also be a sidewalk sale on Saturday. If you are shopping at the store, make sure to spin the wheel for extra discounts when you have a total purchase of $50 or more. LilyKat's Consignment Boutique has been a destination for thrifty fashionistas sense August 2011. They won Up & Coming Weekly's Best Thrift Shop for 2022. They are located at 817 Elm Street.
MUAH Lash & Beauty Bar
MUAH Lash & Beauty Bar specializes in makeup, waxing, skin care, body enhancement, and serves as a spa, hair salon, tanning salon, and lash and brow bar. This military spouse-owned business opened in 2020. They are offering several deals this week, including 20% off any full set of lash extensions or lash lift, free brow wax with any full set of lashes or lash lift, customized facial with free light therapy, 50% off body contouring/sculpting and 50% off non-invasive booty lift/ cellulite break down. These deals are available online at their website https://www.vagaro.com/muahlashandbeautybar. They are located at 1530 N Bragg Blvd, Spring Lake and opened Monday through Saturday.
Popcorn-Is-Us, LLC
Popcorn-Is-Us pops fresh quality popcorn daily. They pair fresh popcorn with high-quality local ingredients such as creamy farm fresh butter, rich milky caramels, fine chocolates, fresh roasted locally grown nuts, flavorful candy coatings, spicy peppers and savory cheeses. All to create delicious, specially handcrafted, savory or sweet gourmet flavors that everyone can enjoy. They will be selling regular large buckets of popcorn for $12.99 instead of $18.99, and premium large buckets of popcorn will be on sale for $15.99. This popcorn shop is located at 3300 Rosehill Rd., Suite #103.
Pressed - A Creative Space
For the whole weekend, Pressed will be having sales in their shop and online. Starting on Friday, all of their shirts, crystals and crystal bracelets will be 30 percent off. On Saturday, a free sticker will be given out with any $75 purchase, as well as 30 percent off for shirts, crystals, and crystal bracelets. On Monday, their website will be 30 percent off as well. This store sells clothing, crystals, and other items of interest for those who see things differently. They are a veteran-owned business in Downtown Fayetteville. They are open Tuesday through Saturday from 10 a.m. to 7 p.m. and are located at 120 Hay Street.
Rocket Fizz
Rocket Fizz has the largest selection of candy and soda ever found in one store. Hundreds of sodas from microbreweries worldwide and almost every candy ever made. You will discover amazing flavors here. The local franchise is owned by Ann Sims, Ineke Morris-Verschuur and James Morris. At their store, you'll see such enticing items as toys, novelties, candies, movie posters, vintage rock concert posters and more than 400 varieties of soda pop. For Small Business Saturday, if you buy two tin signs, you can get the third one for free. This candy and soda shop is located at 1916 Skibo Road #A8.

Sweet Tea Shakespeare
This theatre company will offer 20 percent off tickets for their "20,000 Leagues Under the Sea." Join the most innovative theatre group in Fayetteville for a unique immersive retelling of the classic Jules Verne tale. Savor Fayetteville Pie Company's unique curated menu while diving into the thrilling tale of deep-sea adventure. This non-profit company focuses on fathering a diverse community around a common table to delight in the magic of story, song and stagecraft. Their website is sweetteashakespeare.com.
The Renaissance Day Spa
Holistic wellness goes beyond physical health, involving the mind and body. The Renaissance Day Spa staff make it their mission to ensure customers feel like royalty. This Best Of Fayetteville winner is offering a buy one, get one half-off deal with all of their services. This special will be available through the end of the month. Services include deep tissue and Swedish massages, facials, manicures, pedicures, waxing, infrared saunas, cryotherapy, dry float and compression therapy. They are located at 1534 Purdue Drive.
Triangle Rock Club
The Triangle Rock Club is a premiere indoor rock climbing center and gym. Their state-of-the-art facility offers lead and top rope climbing, bouldering and a comprehensive fitness center. They are selling discounted punch passes. Their punch passes are bulk day passes that never expire. Afterward, if you would like a membership, it will waive the initiation fee. Punch Passes for adults will be $119 instead of $155. Child Punch Passes will be on sale for $79 instead of $110. This veteran-owned gym is located at 5213 Raeford Road.
Yalacky Outfitters NC
They bring outdoor lakeside activities to the Hope Mills community. Kayak rentals, fishing bait, outdoor apparel and equipment, life-size yard game rental. They are selling unlimited weekend passes for $100. This pass can be redeemed once a day, any Saturday and Sunday. This offer includes single kayak for two hours. This pass can be used from Jan. 1, 2023 through Dec. 31, 2023. To buy a pass, call 910-221-6077 or email kayakhopemillsnc@gmail.com.