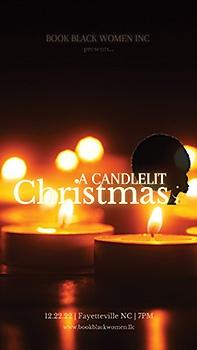 Book Black Women, LLC. will be hosting a Christmas concert by candlelight on Dec. 22 at 7 p.m. The event will be held at the John D. Fuller Recreational Complex on Old Bunce Road in Fayetteville.
"My hope is that everyone feels the magic that is Christmas and leaves the event with joy! It's Book Black Women's final event of the year and I just want to fill the room with smiles," said Ayana Washington, the founder of Book Black Women, LLC.
The concert will be held entirely in candlelight, creating an atmosphere for both the performers and the audience.
"An entire show illuminated by candlelight is almost whimsical! [It's] the spirit of this season," said Washington.
A Candlelight Christmas will feature several performers from the Fayetteville area, including Jerrita Waters, a professor from Fayetteville State University. Washington said Waters had not played her trumpet for concerts in a while but would come out of retirement for the show. Other performers include Ashley Jones, Bryanna Williams, Roné Grant, Destiny Pritchett and Kylah Duncan.
Two local vendors, Pretty Stickie and Southern Weirdo will provide concertgoers with treats and drinks.
"Both businesses are black woman owned. Refreshments and holiday beverages will be on sale for all, but VIP ticket holders will have unlimited access," said Washington.
General admission or VIP tickets can be purchased for the event at www.eventbrite.com/e/a-candlelit-christmas-tickets-449815459147
VIP tickets are $40 and include bistro-style seating near the front of the stage. In addition, guests will receive a bottle of sparking cider at their table and refreshments are included in the cost of the VIP ticket.
General admission tickets are $25. Refreshments can be purchased for an additional cost.
Book Black Women, LLC. was started by Washington as a way to help promote black women in the community. In an interview earlier this year with Up & Coming Weekly, Washington said she created this entity (Book Black Women) because she wanted to provide performance opportunities for black women.
"With colorism being loud and silent all at once, it can sometimes be hard for black women to get the shots they deserve."
Now, with the final event of the first year of Book Black Women, LLC, Washington is hopeful for the next year.
"Book Black Women has succeeded because of the community," she said. "My day job funds 95% of the events, I apply for artist grants which assist with the other 5%. I receive much needed advice from other nonprofits in the city but the community, the people showing up to the events and buying tickets, is what is helping Book Black Women succeed. I am so appreciative of that!"
Washington plans to update Book Black Women to a 501(c)3 status.
"The events we have lined up are in collaboration with other small businesses in the city. Being a 501(c)3 nonprofit will help ensure those events have the greatest impact possible," she said.
Washington can be reached for performance and sponsor opportunities at bookblackwomen.nc@gmail.com.