All ages are invited to come out to experience the magic of trains at Fascinate-U Children's Museum on Dec. 17. The Cape Fear Railroaders will showcase their model trains on the museum's 3rd floor to delight children of all ages. The exhibit is scheduled to run from noon until 4 p.m. The exhibit will also be open on Saturdays in January.
Visitors can also enjoy the regular exhibits. Fascinate-U Children's Museum has hands-on, child-friendly exhibits that keep kids' active minds busy and let young imaginations run wild during these cool winter days.
"We are open every day except Monday and all of our exhibits are hands-on, so when you come to visit, the children get to play and pretend to be a grown-up," said Susan Daniels, executive director of Fascinate-U.
"We have a grocery store, costume stage, a news desk, a doctor's office, school room, army fort, post office, farm, voting booth and restaurant exhibit." Daniels added that the children get to pretend to be employees through role-playing, manipulation, and interacting with each other.
The Cape Fear Railroaders are incorporated as a non-profit Historical and Educational organization, dedicated to keeping the history of railroads alive.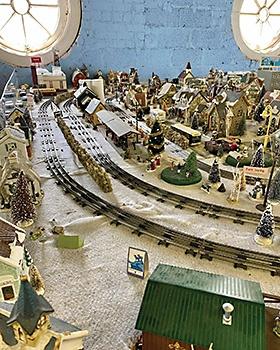 The organization's objectives are to expand interest in the history of rail transportation, to preserve the historical materials concerning railway transportation of all kinds, to collect data on the history of transportation and issue publications relating to the subject. Along with current rail transportation topics, the organization aims to inform and educate the public of the value of railroads and rail transportation.
They also seek to promote, sponsor and/or conduct restoration of railroad equipment and historical museum exhibits.
While promoting fellowship between those interested in rail history, current rail issues, they also wish to promote railroad history though the practice of model railroading, and to instruct, aid and assist model railroaders in the fulfillment of model railroading as a hobby.
Admission to Come See the Trains is free unless you want to stay to play in the museum. For adults, it's $3 and for children, it's $4.
Fascinate-U Childrens Museum is located at 116 Green Street. Museum hours on Tuesday, Thursday and Friday are 9 a.m. to 5 p.m. On Wednesday, hours are 9 a.m. to 7 p.m. Hours on Saturday are 10 a.m. to 5 p.m. Sunday hours are noon until 5 p.m.
For more info, visit www.fascinate-u.com or https://www.facebook.com/fascinate.u.museum or call 910-829-9171.