For seven holiday seasons, the town of Cary has given residents and out-of-town visitors alike one of the most enchanting and memorable festivals imaginable.
The annual Chinese Lantern Festival in Koka Booth Amphitheatre just off Regency Parkway brings in thousands of spectators from throughout North Carolina. This year, the festival opened Nov. 18 and runs through Jan. 8.
Visitors can view life-size and larger lantern displays with hundreds of parts and thousands of LED lights. Many of the animal lantern displays are animated; some are interactive. First, visitors walk through a tunnel of multicolored lighted fish lanterns, arriving at a large parakeet display.
From there, lantern displays are in the shapes of a variety of birds, dragonflies, Panda bears, dinosaurs, and traditional Chinese architecture. Some displays are built on platforms on Symphony Lake, making them more spectacular because of the reflections in the water.
It takes about an hour to walk the pathways bordering the displays. This year, 40 displays were added, according to event organizers.
Gates open at 6 nightly and close at 10 p.m. Tickets range from $11 to $36, depending on the date and time. For example, there are "any time" tickets for those who want to have the flexibility of when to attend or if they are given as gifts.
"Golden hour" tickets give access to the festival about 90 minutes before the gates open to the public. Golden hour tickets are for those who want to photograph the festival at dusk.
There are also group rates, and an educational tour offers insight into how the lanterns are made and the history of the festival. To purchase tickets or for more information, go to the Koka Booth Amphitheatre website www.boothamphitheatre.com/.
Food trucks and booths are scattered throughout the venue. The festival includes nightly performances by jugglers, acrobats, and traditional Chinese dancers. The festival was started in 2015, and although it's in its seventh season, organizers took 2020 off because of the COVID pandemic, according to William Lewis, the town of Cary's cultural arts manager.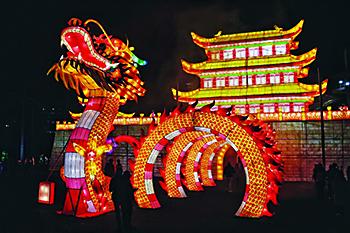 Lewis said Tiyanu Arts & Culture approached the town about the festival based on the town's reputation for quality facilities and diversity in arts and culture programming. Tianyu is the largest Chinese lantern festival producer in North America and one of the first companies to bring authentic traditions of the lanterns to the U.S. and Europe, according to its website. The U.S.-based corporation is a subsidiary of Sichuan Tianyu Culture Communication Co., which is headquartered in Zigong in China's Sichuan province.
"After touring other potential sites throughout North Carolina, they selected Koka Booth Amphitheatre because of its overall beauty and amenities," Lewis said in an email.
"The amenities include dedicated staff at the facility, ample parking, a full-service box office, professional-grade staging and in-house production, concessions, restrooms, a spacious lawn, and a covered deck. Plus, an adjacent greenway, Symphony Lake, and other natural features."
"Each year, Cary staff works directly with our partners at Tianyu to design, select, and curate new lantern displays for the festival at Koka Booth Amphitheatre. After agreeing on preferred designs and layouts, Tianyu contracts with the artists in China to build the lanterns. Most of the lanterns are made in the city of Zigong in the Sichuan province, which is considered the lantern capital of China for many centuries. The craft of making lanterns has been handed down to artisans in Zigong for generations," Lewis said.
The lanterns are then disassembled and shipped from China to Wilmington, where they are loaded onto 15 tractor-trailers and driven to Cary to be reassembled.
"The festival has grown in attendance every year, with last year's attendance topping 200,000. Cary has signed a contract to keep the N.C. Chinese Lantern Festival at Koka Booth Amphitheatre through the 2028-29 season," Lewis said.
The Chinese Lantern Festival runs through Jan. 8.