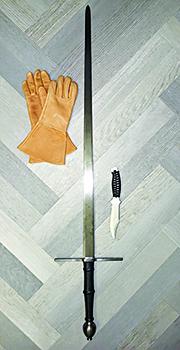 The Gilbert Theater is offering three separate stage combat classes in January for anyone in the Fayetteville area — whether they are part of the theater community or not.
The instructor of the class, Madeline Murphy, says the workshops build on top of each other, but could also be taken separately. No former knowledge of stage combat is needed to take the classes.
"Any skill level can benefit from this, but it's mostly for people who have never experienced this before and even if you have, it will be really fun to come in and relearn the basics and go back to fundamentals," Murphy said.
The first workshop on unarmed fighting was successful. The second class, scheduled for Jan. 14 from 12 p.m. to 3 p.m., will focus on knife fighting techniques.
In that workshop, students will learn how to safely perform a variety of prop knife maneuvers in a choreographed fight. This includes cutting drills and patterns, disarms and basic handling of a knife in the context of stage combat.
Students are asked to bring a "knife" to practice with. It can be anything the approximate size of a knife that isn't actually sharp, for example, a paint mixing stick.
The third and final workshop, scheduled for Jan. 28 from 12 p.m. to 3 p.m., will be about sword fighting. Students will learn the basics and fundamentals of performing a safe stage version of a classic combat style.
This class includes cut patterns and drills, parries, and both basic and creative handling of a broadsword. Everyone will get an opportunity to work with a real professional-grade prop steel broadsword.
Students are asked to bring a "sword" to practice with. It can be anything the approximate size of a sword that isn't actually sharp, for example, dowel rods.
"At the end of every workshop, we are going to have a short little scene that everyone will have learned. It will have a few basic combat moves for each discipline in one scene," she said. "So, they can take that home and have a nice little package, tied up with a bow to wrap it up, so they can practice in their own time and improve on."
Students must be 18 and older and there is a limit of 20 students per class. These workshops are a part of its adult theater education program, which Tammy Woody, the education director at Gilbert Theater, runs.
The program offers fun and informal workshops for those who are new to the theater, and for those who make a living performing in the theater.
"We've had a few shows that we've done over the past couple of years that have had quite a few scenes in them, and I just thought it would be a good way for some of our regulars and also just anybody in the surrounding area that is interested in it," Lawrence Carlisle, the artistic director of the Gilbert Theater, said. "I think it's a cool idea for the arts community here in Fayetteville."
Those who are interested in signing up for the remaining two classes can register at www.gilberttheater.com. The cost of the classes is $40 each. All of the classes will take place at the Gilbert Theater.