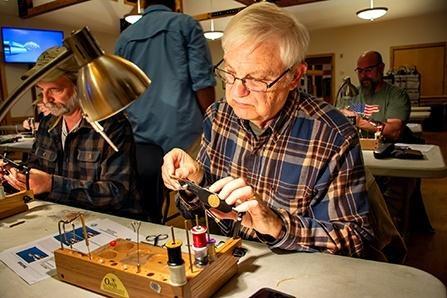 All fly tying starts at Pechmann Center with putting thread on the hook with a jam knot. This consists of making thread wraps over the main thread itself, where the tension holds it in place.
"We suggest starting simple," Matthew Rieger, education specialist at the John E. Pechmann Fishing Education Center, says. " … with patterns that do not require many materials or difficult techniques."
The folks at the Pechmann Center host a variety of classes that aim to educate the community on fishing — whether that be tying flies, cleaning fish or even cooking classes. They hold two types of fly tying forums at the center, one is for beginners and the other for the more intermediate folks who have already done the beginning course or have the basics of fly tying down. The beginning courses take place about four times per year.
During the intermediate forum that takes place on the fourth Thursday of each month (with a virtual portion that takes place a Wednesday before typically), the tyers will tie two different patterns, two times each. The first of each pattern they'll do as a class together and then the second the course members will do individually. At the Pechmann fly tying forum, they have tied close to two hundred patterns. And there's quite a few more in the future.
"Oh man, there's more than you can count," Rieger says about the possibilities of different patterns. "People are constantly making new ones. Thousands if not tens of thousands."
These flies are typically lighter and can mimic anything from worms to aquatic fish as lure.
"Most people think that fly fishing is pretty much in the mountains," Rieger says, "but you can fish in saltwater."
The courses, as all courses at the center, are free to the public. The center has quite a schedule with more than 300 programs available to the community.
"We are constantly creating new ones," he says. "Anything fishing related in the state of North Carolina, we teach it."
The next beginning course will be Feb. 7 to 9. The intermediate fly tying forums take place the fourth Thursday of each month but the center does offer a virtual course for it that usually takes place the third Wednesday of each month.
The John E. Pechmann Fishing Education Center is located at 7489 Raeford Road in Fayetteville. For more information call 910-868-5003 or visit www.ncwildlife.org/Learning/John-E-Pechmann-Fishing-Education-Center.
Photos courtesy John E. Pechmann Fishing Education Center