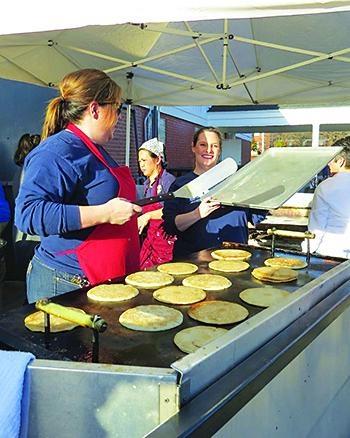 The Cape Fear Kiwanis Club is once again bringing breakfast to locals for a good cause. From 7 a.m. to noon on March 3 and 4, guests can enjoy some tasty pancakes and sausage. Guests will be able to either eat in at the Greek Orthodox Church and Hellenic Center, located at 611 Oakridge Avenue in Fayetteville or take their food to go.
Tickets are $7 per person and all proceeds benefit our children and community! The Kiwanis Club of Cape Fear's annual Pancake Breakfast was started by John S. Poulos.
Poulos is also the founder of Superior Bakery, located in Hope Mills, which is now run by his son, Nicko.
Since the first pancake breakfast, the turnout gets bigger and bigger every year, according to Steve Goodson, this year's chairman of the Pancake Breakfast.
"It's just a fun thing for everybody to socialize, eat, meet and greet each other, and have a good time, " says Goodson.
Goodson is responsible for making sure that everyone eats well and has an enjoyable experience at the pancake breakfast. Participants that would like to order for a large group can call ahead and the order will be ready for pick-up the days of the event. There are also sponsorship opportunities for local businesses and organizations. If you would like to promote your business on the days of the event, banner spots are available for $100.
Kiwanis Club
Kiwanis is a worldwide service organization appealing to people with a desire to be personally involved in making their community a better place to live.
The Kiwanis Club of Cape Fear was organized in 1960 and is one of more than 7,000 clubs in over 80 countries.
The Kiwanis Club is focused on serving the children and youth of Cumberland County. They do this through service projects, fundraising events, sponsoring school-based service leadership programs, grants to nonprofit organizations, and scholarships for college-bound students.
For more info visit the Kiwanis Club of Cape Fear's Facebook Page at https://m.facebook.com/people/Kiwanis-Club-of-Cape-Fear/100057491266577 or call 910-624-4949.