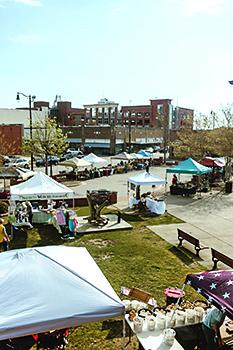 The April showers are working overtime to usher in May flowers in downtown Fayetteville, and with the new blooms, some beautiful weather should also be on the way. In celebration of spring and the new market season, this Earth Day, April 22, Fayetteville's City Market at the Museum will be supporting the mission of caring for the planet in full force. The City Market is hosted by the Fayetteville History Museum and Fayetteville/Cumberland County Parks and Recreation's Historic and Natural Resources District.
An ever-present opportunity to support environmentally healthy habits, the Fayetteville City Market at the Museum is a year-round farmers market that pops up in front of the Fayetteville History Museum every Saturday from 9 a.m. to 1 p.m. It is a rain or shine event.
City Market at the Museum, like all farmers markets, is a fantastic way to help protect the environment. Shopping locally reduces food miles as food purchased from local resources travels less distance and leaves a smaller carbon footprint.
Shopping small helps to support Fayetteville produce growers, and its farming community, by creating accessible community consumer options.
Buying from local farmers markets also serves local shoppers fresher vegetables and meat. Shopping within the community can also help protect local land and wildlife by keeping farmlands in the hands of farmers.
In addition, shoppers can help to build and support a local craft industry and workforce. The City Market at the Museum provides visitors with ample environmentally sound options. The market boasts not only a well-stocked greengrocer and local meat vendor but also showcases vendors of local honey, microgreens, baked treats, woodcrafts, candles and so much more.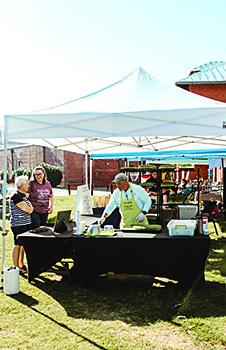 In celebration of Earth Day and to kick off the market's fine weather busy season, museum staff will have a booth set up with giveaways and coloring sheets.
Local Park Rangers will also be on site, offering an educational and scientific experience and sharing all of their upcoming free programs and some fee-based summer camp opportunities.
Fayetteville's Public Works Commission will be in attendance sharing valuable ways to protect the environment and tips to make your home and community energy efficient.
"We are very excited to welcome all of our new and veteran vendors to kick off what will be a fun season of local shopping opportunities at the market," said Historic and Natural Resources Manager, Heidi Bleazey.
"And we are overjoyed to have our very own park rangers and PWC here in support of Earth Day. Everyone is welcome downtown to celebrate our planet, experience the City Market and explore the museum."
In addition to a selection of local growers, makers and farmers, the market anticipates hosting a food truck on site each Saturday throughout the spring and summer, making the market a fantastic Saturday morning and afternoon adventure for the whole family.
Visit the Fayetteville History Museum's City Market at the Museum at the front of the museum grounds at 325 Franklin St., every Saturday from 9 a.m. to 1 p.m. The Museum and Annex are also open for visitors, Tuesday through Saturday, from 10 a.m. to 4 p.m. and are always free.
Editor's note: Emily Sussman is the Historic Properties Coordinator for the Fayetteville History Museum and the North Carolina Veterans Park.