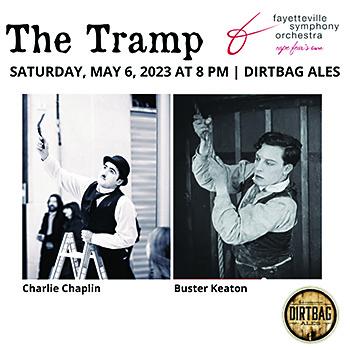 Members of the community looking for a fun family event can head to Dirtbag Ales on May 6 for Fayetteville Symphony Orchestra's Movie Night.
The double feature event will begin at 8 p.m., and is free to attend. "The Tramp" starring Charlie Chaplain will be the first movie shown, followed by Buster Keaton's "One Week." The films will be accompanied by a live ensemble, with music arranged by Peter B. Kay.
"The FSO started Symphony Movie Nights in 2021 along with our Symphony on Tap series," said Meghan Woolbright, Marketing and Office Manager for FSO.
"Every October since 2021, we've held our fall movie showing of 'Nosferatu,' a 1922 gothic silent film at Dirtbag Ales. These movie nights have been really well received, so why not do another in the spring?"
"Community" is what the FSO is all about. Several events throughout the year are held for free, all for the benefit of the Cumberland County community.
"The FSO loves engaging with our community. One way we do that is by offering free community concerts like our various Symphony on Tap events, and our Independence Day concert held at Festival Park on July 4," said Woolbright.
The FSO has been a staple in Fayetteville since 1956. A group of musicians who dreamed of sharing their passion with the community came together to create the first Fayetteville Symphony Orchestra.
The main orchestra is currently comprised of about 70 musicians. FSO has had six music directors since its inception. Dr. Stefan Sanders is the current director. He is in his fifth year.
The orchestra provides several free concerts to the community throughout their season, and Movie Night is just one more way the musicians give back to Fayetteville.
"These events allow our beloved community of Fayetteville to come together and enjoy a free movie and listen to a small ensemble perform in a comfortable environment like a restaurant or a taproom," said Woolbright.
"The Tramp" is one of Charlie Chaplin's most well known silent films. Chaplain, as the character of the Tramp, has several misadventures in the 26 minute runtime. It debuted in 1915.
"One Week," also a silent film, has a runtime of 19 minutes. Starring Buster Keaton, the story centers around a newly wed couple as they build a house together using a do-it-yourself kit. It debuted in 1920.
The two comedies will be accompanied by an ensemble from members of the Fayetteville Symphony Orchestra.
The event on May 6 is open and free to the public. For more information, visit https://www.fayettevillesymphony.org/.