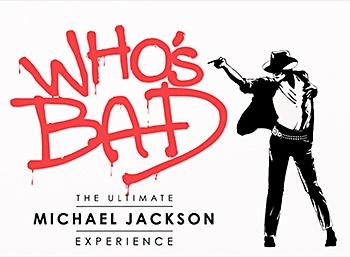 Nearly 14 years after his death, Michael Jackson is still the undisputed King of Pop. From a precocious child star to one of the world's most polarizing celebrities, Jackson's 40-year career forever changed the face of music and made him one of the most culturally prominent figures of his lifetime.
Jackson's musical legacy will close out the Dogwood Festival's three-night concert series on Sunday, April 30, when Who's Bad: The Ultimate Michael Jackson Experience takes to the stage at 7:30 p.m.
Founded in 2003 by Vamsi Tadepalli in Charlotte, — six years before his tragic passing — Who's Bad is now the longest-running Michael Jackson tribute in the world.
The Ultimate Michael Jackson Experience is created from meticulous research of Jackson's tours, videos and live performances to perfect the showmanship that sold out arenas for decades. Having performed nearly 3,000 shows worldwide, Whose Bad has gotten the tribute game down to a science, impressing generations of fans, friends and industry insiders.
Remembered for certified diamond hits like "Billie Jean" and "Thriller," the invention of the moonwalk, and his larger-than-life persona off stage, Jackson's contribution to music and pop culture are both still seen and felt in the entertainment industry.
In his lifetime, Jackson produced 13 number-one singles, won 15 Grammy awards and sold over one billion records — making him one of the best musical artists of all time. As far as legacies go — it's a tough act to follow, but Who's Bad has made it their mission to elevate their craft to meet that challenge consistently.
According to their website, "Each individual show is designed and constructed through an unparalleled study of the artists' original performances, and infused with new energy so that they can be brought to life…."
Not content to perform only a portion of his catalog or emulate a particular era, Who's Bad: The Ultimate Michael Jackson Experience is an exciting kaleidoscope of Jackson's most iconic looks, moves and tunes. From his rakish fedora, singular white glove and the loafers that seemed to glide on air — Who's Bad has distilled all the moving parts of the Jackson juggernaut into a performance that pays respect to his fans, his craft and his memory.
Though "Michael," whose distinctive dance moves and vocal style are eerily brought to life by James Till III and Taalib York, is the clear star of the show, an impressive roster of singers, dancers and entertainment professionals propel the kinetic, dance-driven performance to a level of magic befitting the King of Pop.
Who's Bad: The Ultimate Michael Jackson experience is free and open to the public.